In focus
Gigged Out: An emerging workforce in pursuit of stability
The year 2020 made the plight of a gig worker much more familiar to a lot of people. As work becomes less stable for millions and access to healthcare and other employer-based benefits even more essential, is it time we reconsider what stability might look like for an emerging workforce?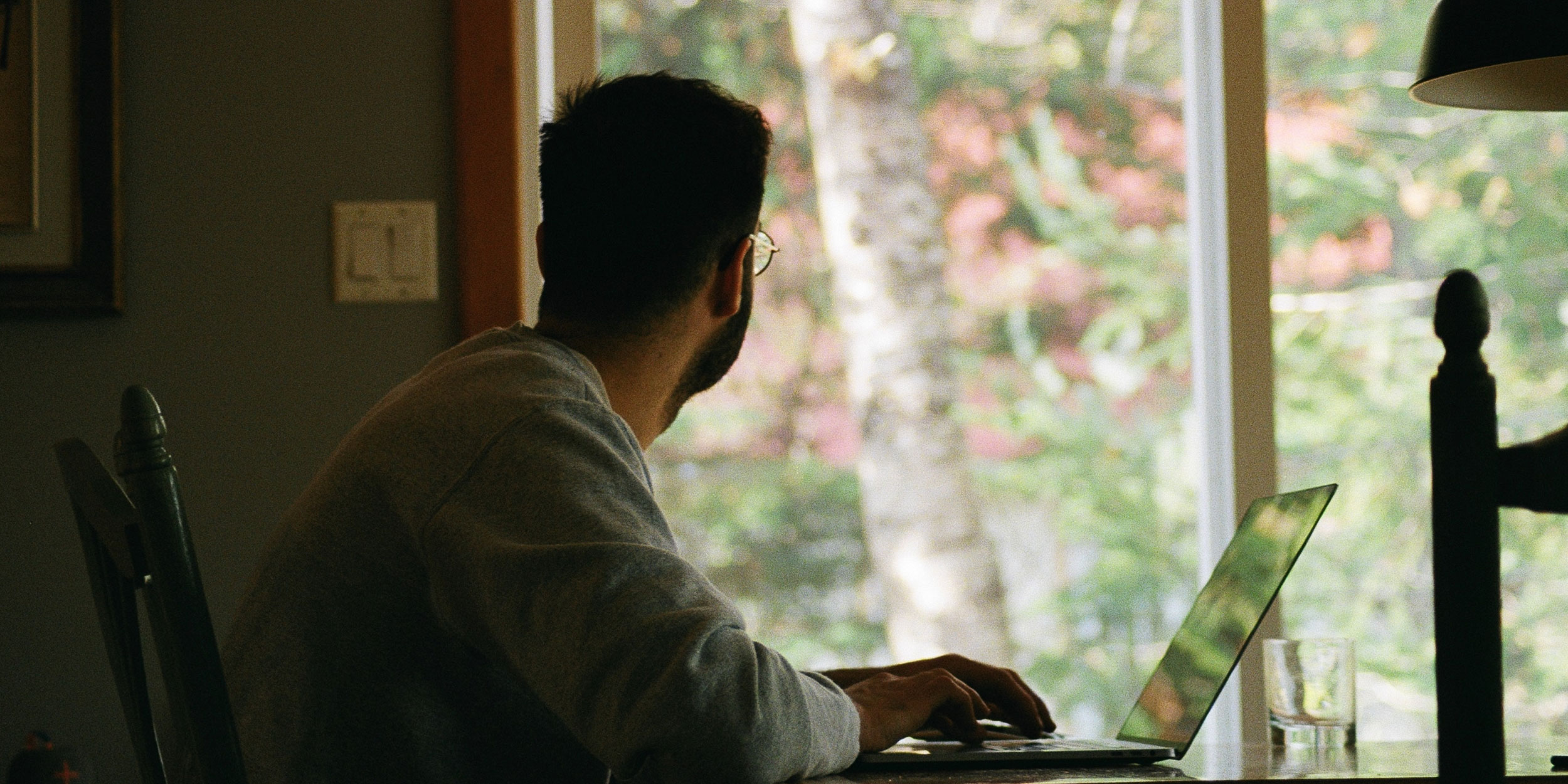 Introduction
A few years back, while working with an insurance carrier client of ours, we began to observe some interesting trends in the small commercial insurance space regarding the overlap of personal and commercial insurance needs. This observation set us off upon what has become a three-year-long journey to better understand the Gig Economy and the way that this emergent labor paradigm is not only upending traditional insurance models, but the way that millions of people pursue and achieve stability and security in their lives.
Since then we have spoken with thousands of gig workers, sole proprietors, owners of very small businesses and other unconventional workers. In doing so, we have uncovered insights and formed perspectives around how the plight of these unconventional workers might shape the way that businesses think about their customers and innovate for the future.
When the pandemic first struck, we knew–given the precarious nature of this type of work and the lack of support structures available– that these workers would be particularly vulnerable and we wanted to talk to them. So we launched a series of surveys, events, and research projects to discuss, learn, and gain insight into how some of the country's more unconventional workers were coping amidst the pandemic.
The Gig Economy as a microcosm of the future workforce
Through the course of our research and inquiry, we watched as the pandemic shined a light on long-existing vulnerabilities among gig and other unconventional workers. As more and more people have been pushed out of traditional employment or found the terms of their labor drastically restructured by the pandemic, the risks, vulnerabilities, and even the appeal of gig and freelance work have become more mainstream and more relatable.
April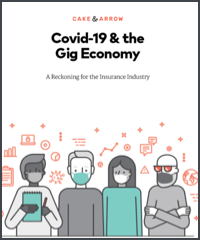 June
Webinar exploring design thinking methods to better understand customers amidst the pandemic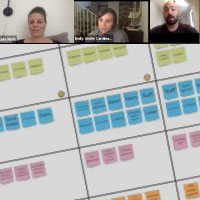 August
Research report based on interviews with small business owners amidst the pandemic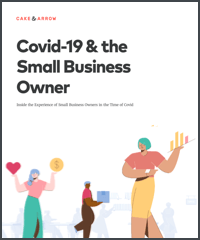 September
Webinar exploring how our original research has called into question some of the most prominent myths about the gig economy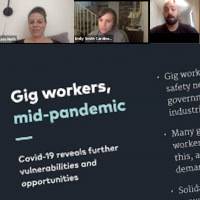 December
Moderated user testing exploring a new concept to help small business owners connect and share resources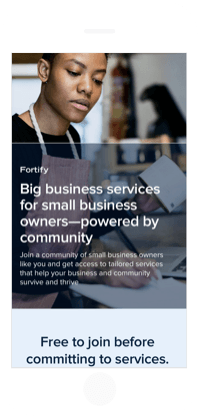 What the pandemic has made clear, and our research has borne out, is that looking at gig workers and others who operate outside of the traditional workforce as niche audiences is a mistake. Rather, these groups, while still a minority, represent larger trends that are fast shaping the future.
To innovate for the gig economy is to innovate for the future.
More freedom more problems
The pandemic finally put to rest a myth about the Gig Economy that's been peddled for more than a decade
Following quick on the heels of the 2008 financial crisis, a "new" labor paradigm took shape. Occasioned by record-breaking unemployment and unleashed by advances in smartphone technology, the Gig Economy gave workers new and streamlined ways to find and book work and monetize assets in place of or in addition to traditional employment.
The myth
Sold to workers as a means of unshackling them from the constraints of full-time employment, the Gig Economy promised to rush in a new era of worker flexibility, freedom, and autonomy empowered by technology.
"The gig economy is empowerment. This new business paradigm empowers individuals to better shape their own destiny and leverage their existing assets to their benefit."
John McAfee -"The war on the gig economy has turned AirBnb and Uber into a legislative bloodbath"
The gig is up
Just as the prognosticators warned a decade ago, the Gig Economy is not all it's cracked up to be. The last decade has seen gig work slowly unmasked and exposed for what it truly is, with the pandemic quashing any lingering optimism as the bottom fell out for millions of gig workers when the pandemic struck.
REPORT – Covid-19 & the Gig Economy
Vulnerable before the pandemic, learn how gig workers have been impacted by the effects of Covid-19.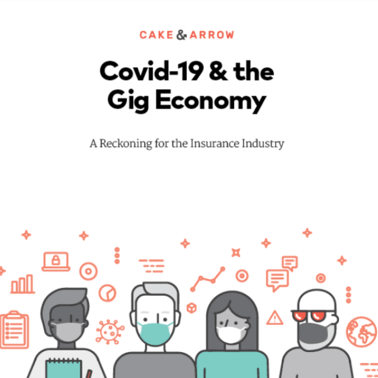 The truth
In reality, the rise of the gig economy has left millions of workers highly vulnerable, overexposed to risk and competing for ever-diminishing wages. It took a pandemic to fully expose how vulnerable gig workers truly are.
"The gig economy emerged […] cloaked with notions of flexibility and choice that disguised a business model that evaded the traditional responsibilities of employers."
The Food Labor Research Center, UC Berkeley — "The New Gig Economy and the Threat of Sub Minimum Wages"
Press the pencil to add content.
Weeks into the initial shutdown, we asked gig workers what they had done to prepare for a loss of work or income:
"I just saved about a month's worth of expenses. Is it enough? No, but it's helping me not panic right now."
"I tried to save money, but it all went very quickly once this happened"
"We had savings, which will be gone after the first, and theoretically I can pivot from wedding and event related work to making housewares. My husband has also lost work, and not being able to use our studio is probably going to bankrupt us."
"I opened a savings account a few weeks prior. I am new to the work force and this was the first bit of savings I have been able to put away, so it isn't much money. It was not enough to change my current situation."
Contradicting the popular mythology, our research has found that gig workers:
Are not necessarily platform workers
Platform work makes up a small percentage of gig work but is nevertheless transforming the nature of work, turning workers into "entrepreneurs" and "users" and setting the terms of employment and labor for years to come.
Are doing more for less
As consumer demand for on-demand services goes up, more platforms emerge, drawing in more workers. More competition among platforms drives down prices for consumers and wages for workers, who are incentivized to do more work for less money.
Are not just Millennials
People of all ages do gig work, but Millennials make up the largest share of gig workers – just as they do the workforce at large.
Don't necessarily do gig work out of choice
Framing gig work as a choice obfuscates the way that traditional full-time work can be elusive for many and unaccommodating to the realities of people's lives.
Care about stability and security, too
For gig workers, financial stability and security are prized above flexibility. Many who seek out gig work are attempting to have both, a feat which is becoming increasingly difficult amidst an economic recession.
5 Myths About Gig Workers Debunked
The pandemic has unveiled difficult truths about the gig economy, challenging myths we've been sold for years.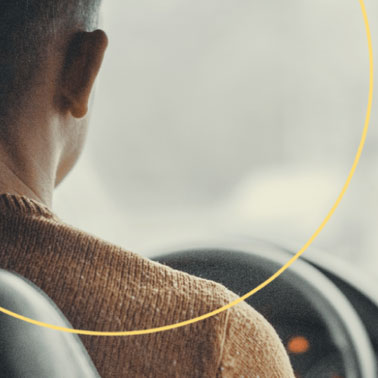 Food for Thought
Who really benefits from the gig economy?
Odd Jobs and Loose Ends
Over the past decade, employers have slowly retreated from the central role they once played in worker's lives. What, if anything, will replace them?
As more and more people find themselves in unconventional work arrangements, the central role of the employer is diminishing, leaving millions in the lurch, unprepared and ill-equipped to achieve the kind of stability and security once promised by full-time employment.
In the US, employers have long been seen as the organizing principle in people's lives– determining everything from where they live, how they plan their personal lives, and of course how they access insurance and other benefits.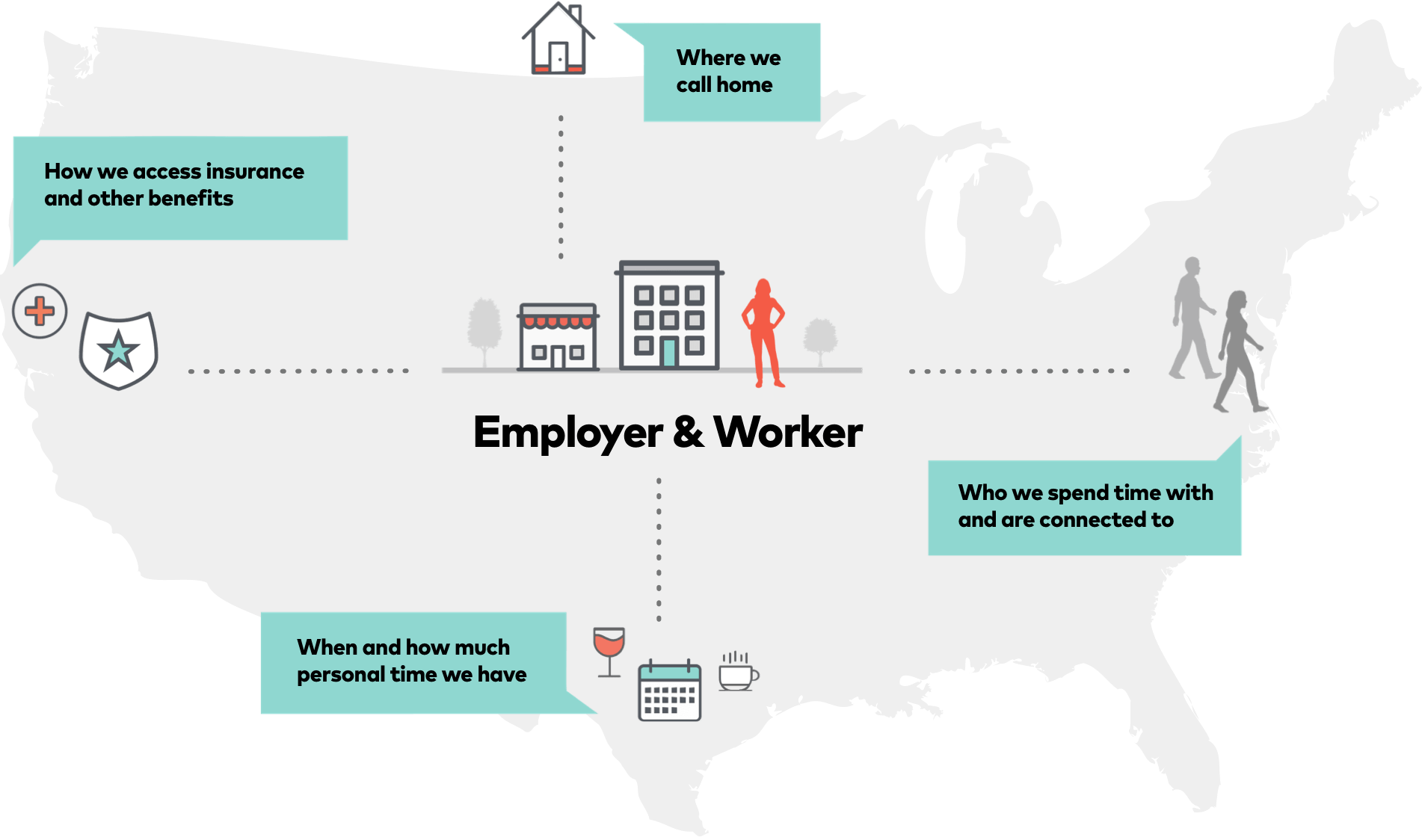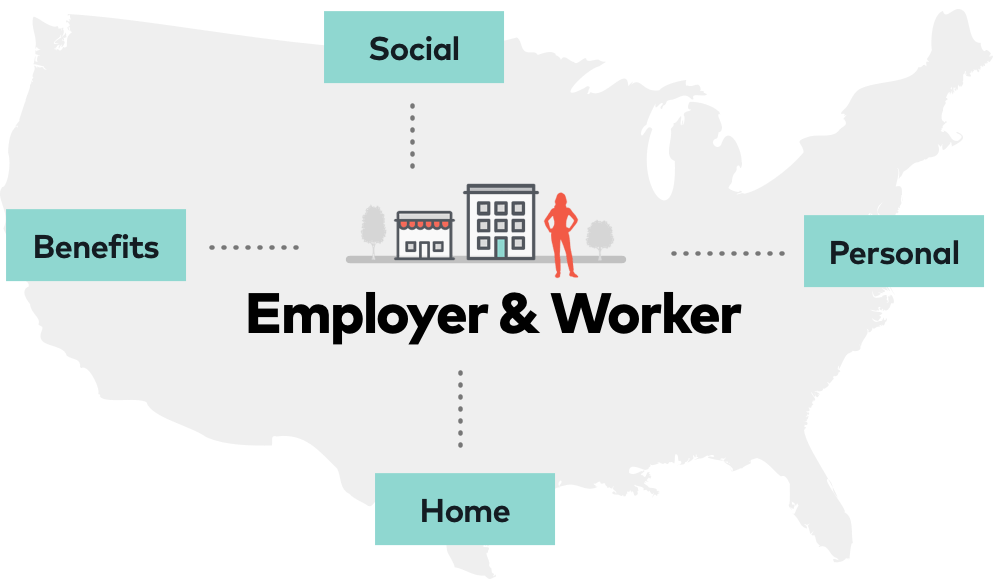 Even before the pandemic, this employer-based framework failed to account for the millions who did not work traditional full-time jobs or were otherwise categorized as something other than an employee.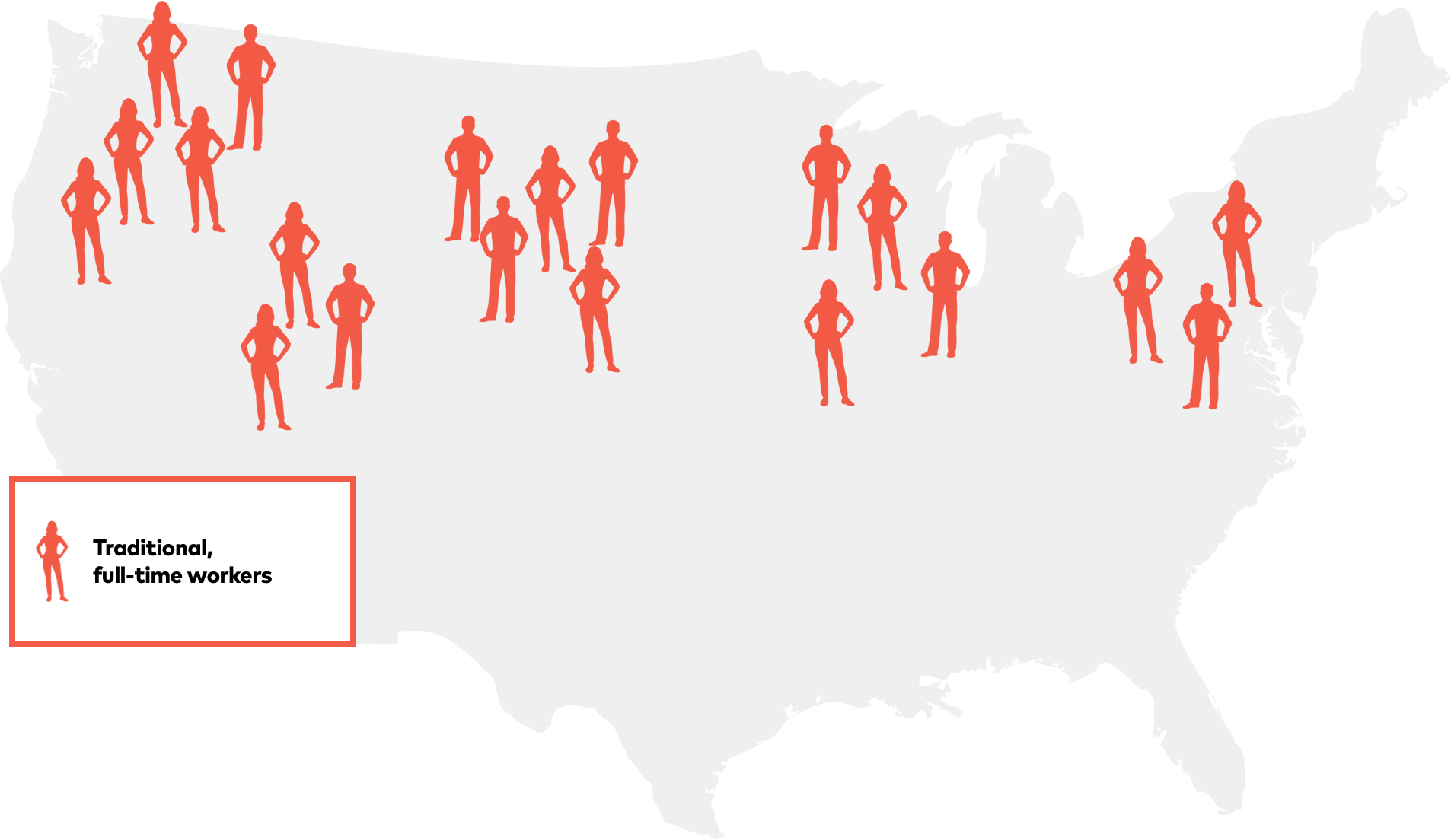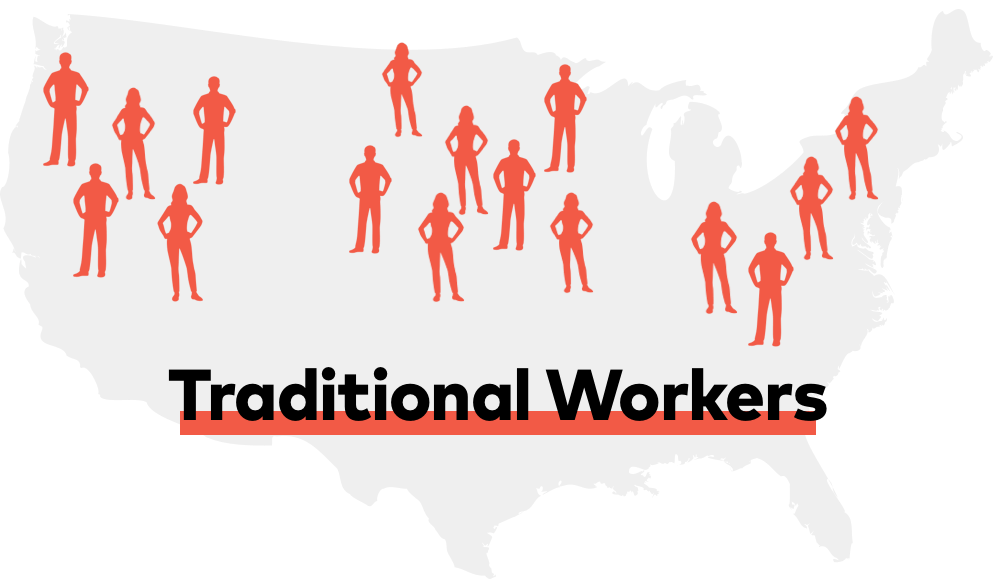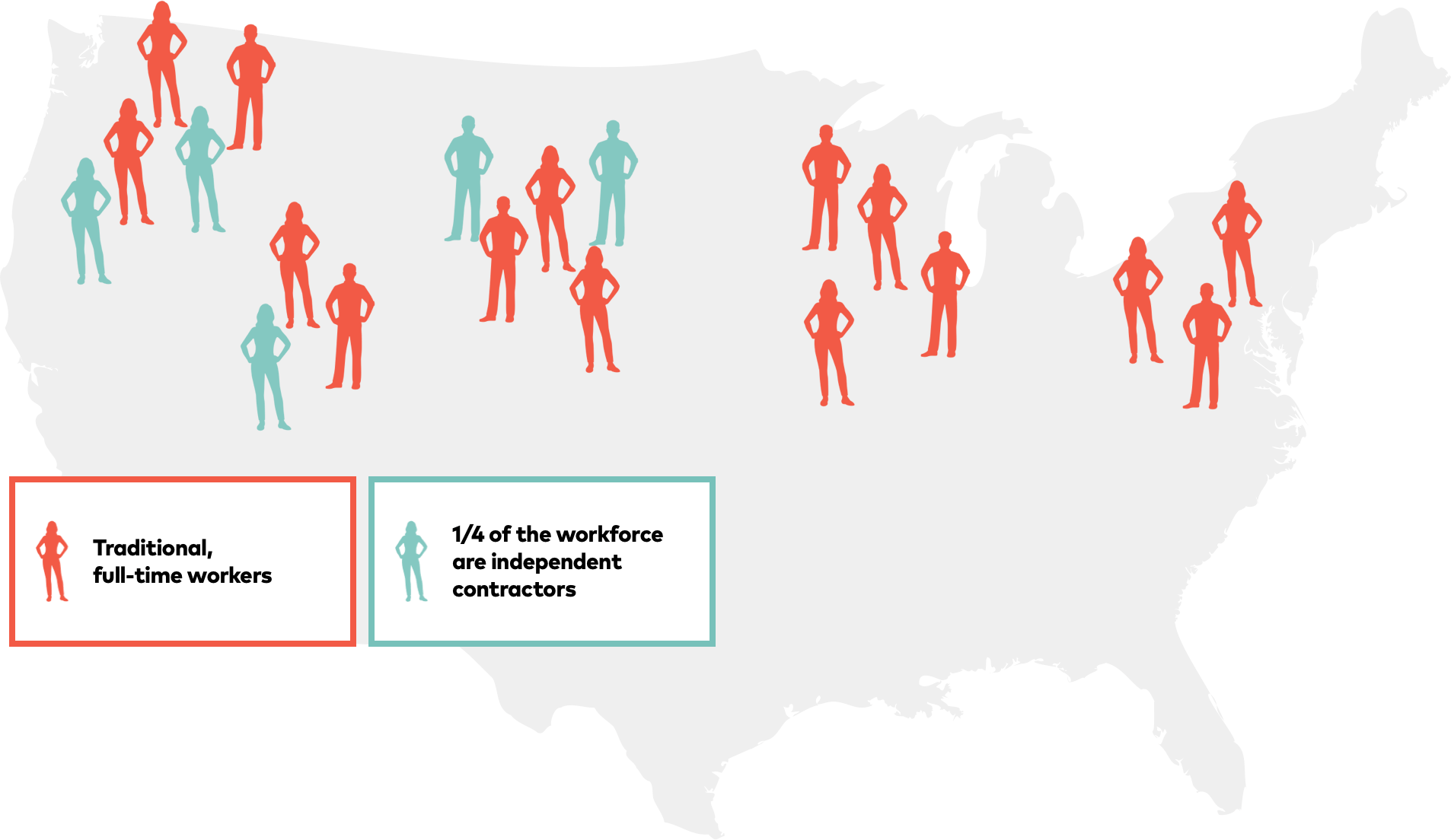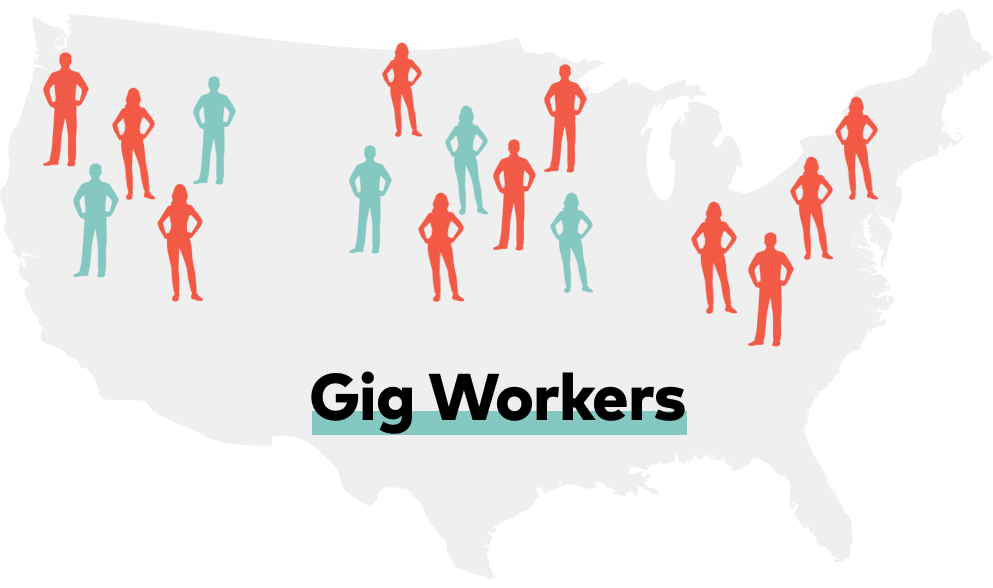 The pandemic has accelerated this trend, leaving some adrift and hustling to find alternatives to the benefits and supports afforded by full-time employment, and others no longer tethered to the traditional constraints of their work.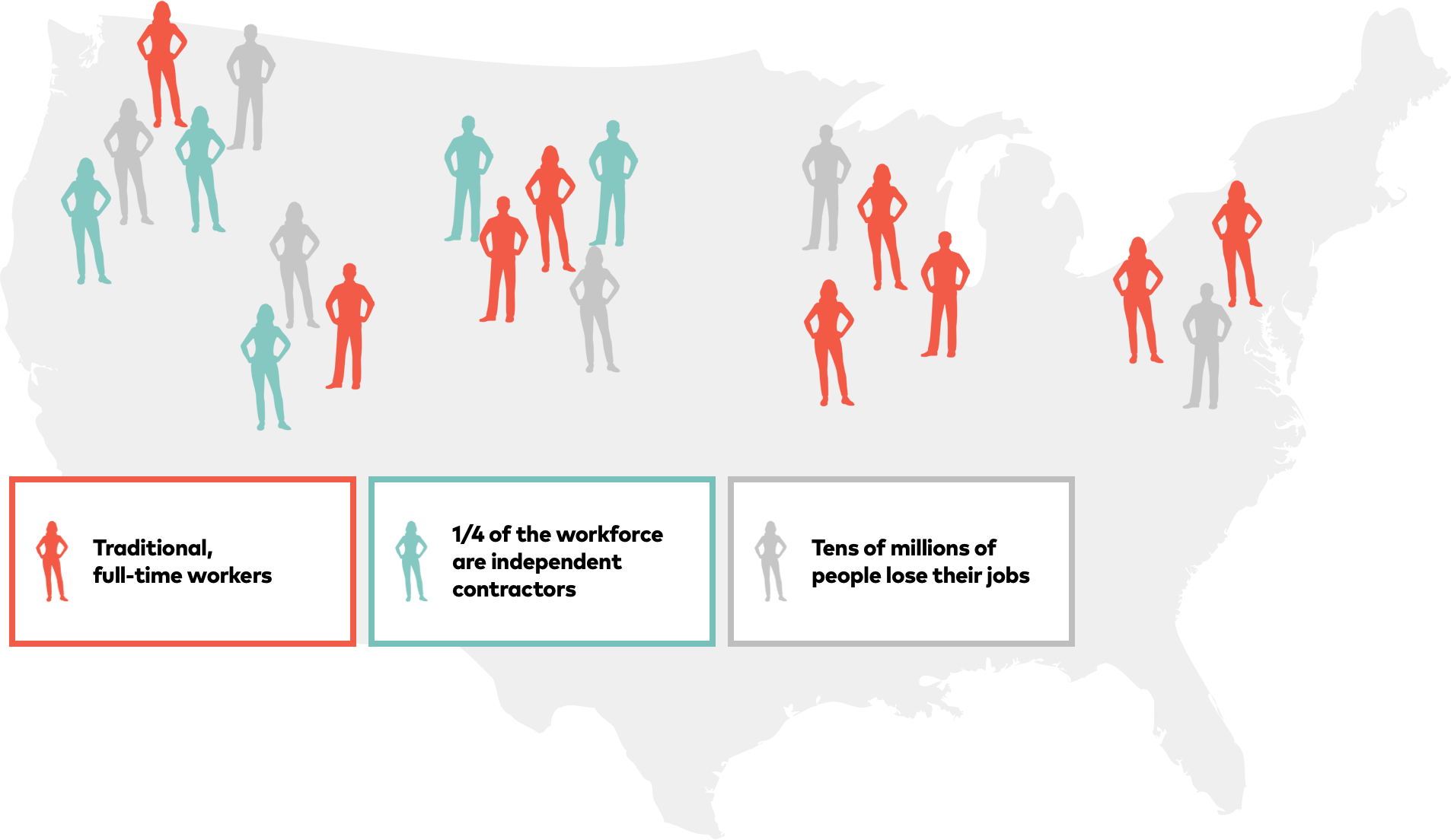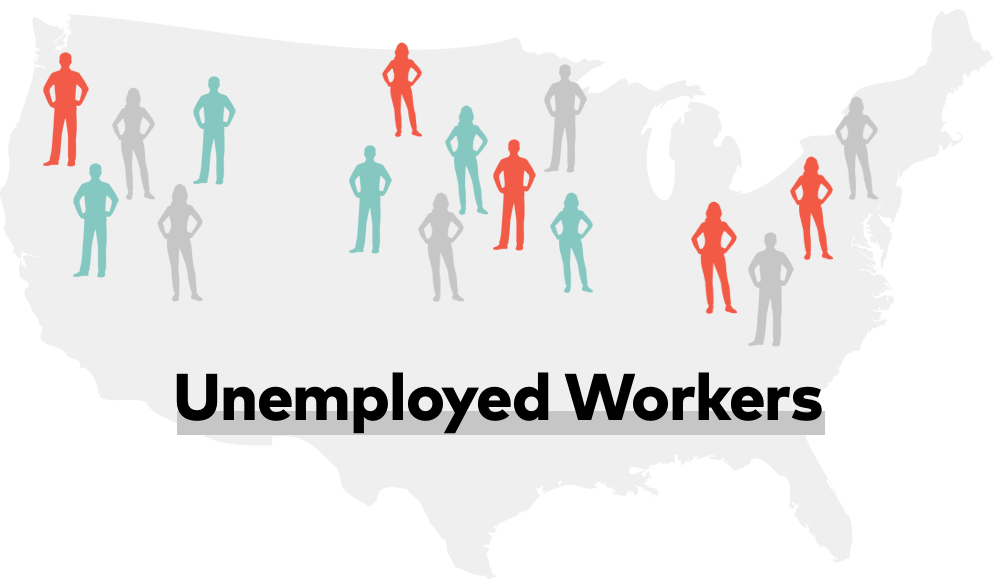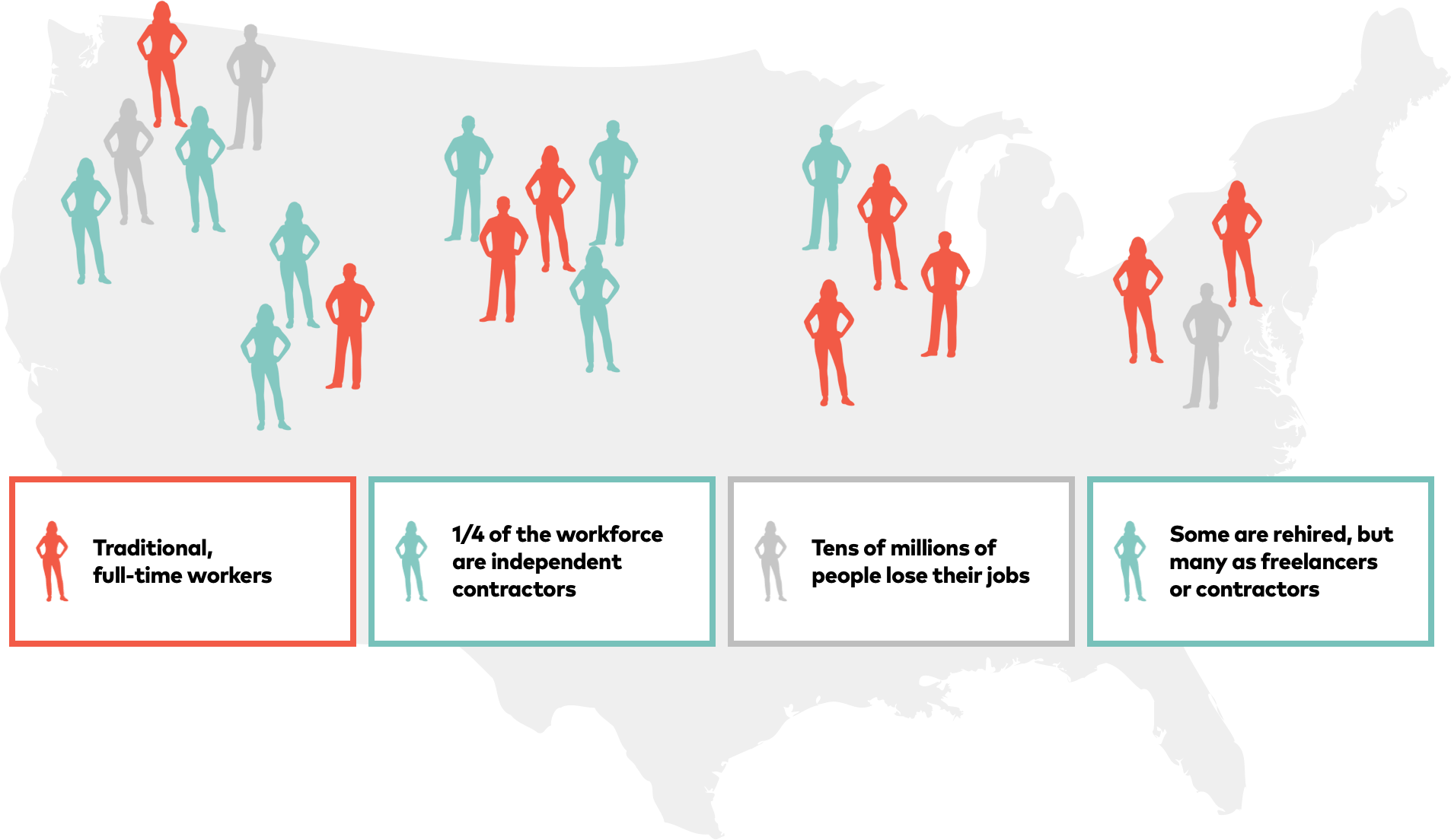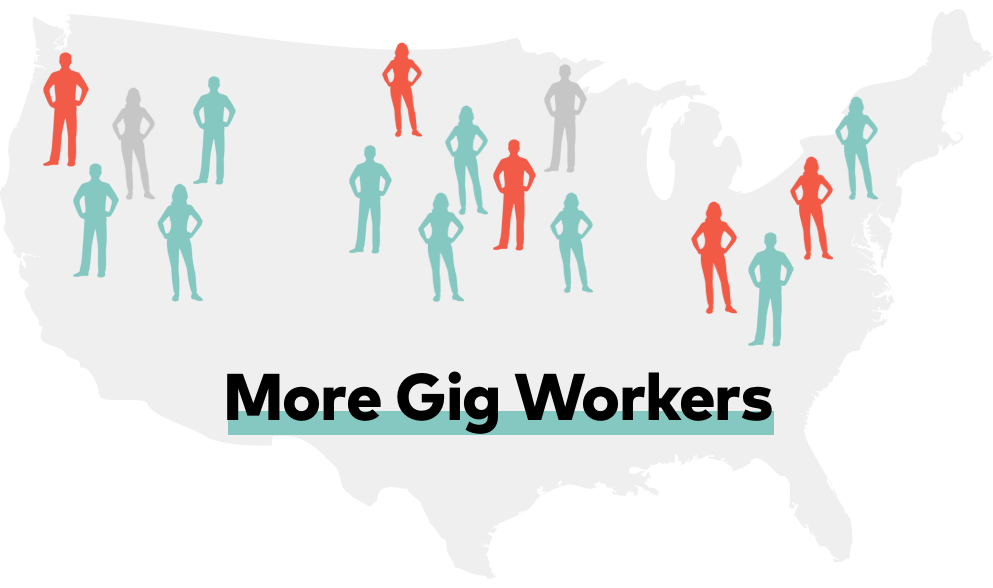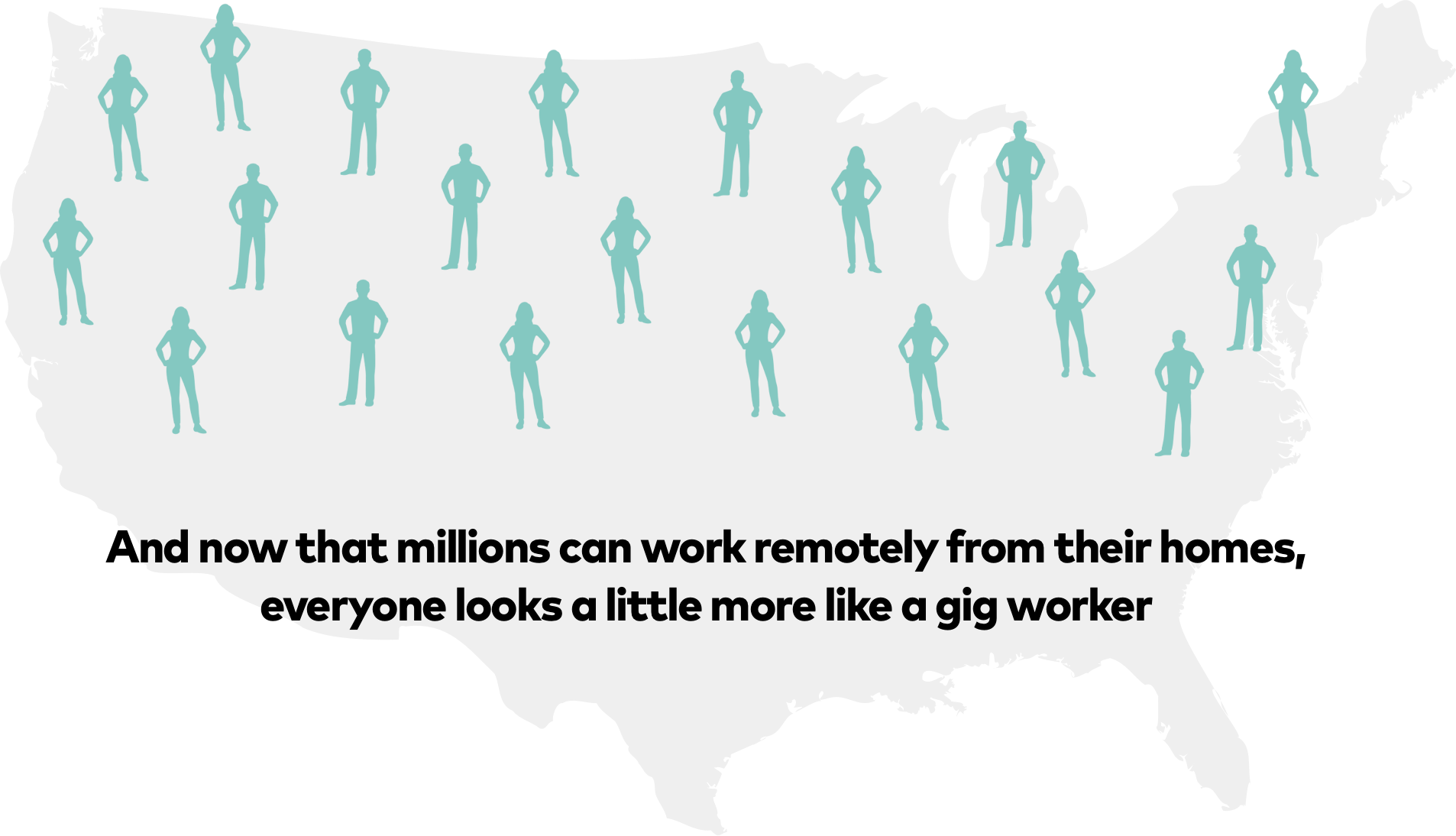 As the number of people in unconventional work arrangements increases …
So does the number of people lacking the basic tenants of stability and security …
12.5%
of adults have no health insurance
40%
of the workforce is not eligible for FMLA
86%
of American workers do not participate in a 401k
"A labor market and economy that's more and more made up of these independent contractors is all the more one where you're gonna have lower pay, stagnating wages and growing earning inequality [exacerbating] all the things we're grappling with right now in the labor market."
David Weil — Former Wage and Hour Administrator for the Obama Administration
Customer Insight
Gig workers are looking for more support, but it's not there. Many still think of themselves as employees, and their gig platforms as their employers–looking to them for information, support and guidance.
"I assume they'd tell me if I needed more insurance. They wouldn't be in business if workers were liabilities."
Gig Worker
Food for Thought
Who or what is best positioned to fill the hole left by employers?
We're all gig workers now
The pandemic has made everyone a little more like a gig worker
For better or worse, the pandemic has upended even traditional full-time work, thrusting more and more people into an experience not unlike that of a gig worker – giving many a taste of the freedom and flexibility of gig work, while also making everyone feel a little more vulnerable.
Recent policy and legislation points to a future in which even more workers are categorized as independent contractors
In September 2020 the labor department issued a new rule proposal that would make it easier for companies to categorize workers as independent contractors.
On November 4, 2020 California passed Prop 22, a ballot measure exempting firms like Uber and Lyft from having to classify their gig workers in the state as employees rather than as independent contractors, passed.
The not-an-employee experience
While the pandemic has certainly made the experience of gig work more familiar to a new subset of workers, it was already familiar to many–even among those who were not necessarily seen as gig workers but who were nevertheless categorized as something other than an "employee."
"I'm not an employee. I'm not considered a value-asset, and practices will prioritize themselves and employees. I'm seen as replaceable and there's a definite resource gap for people like me."
Dentist and Independent Contractor
REPORT – COVID-19 & THE SMALL BUSINESS OWNER
Small businesses have been among the hardest hit by the fallout from the pandemic. Learn how they are grappling with the pandemic's new normal.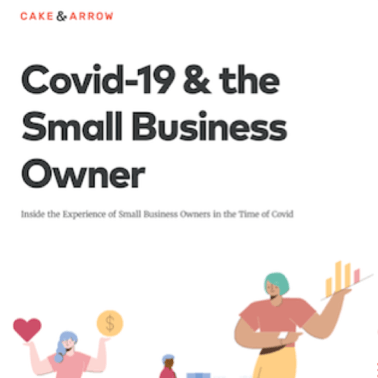 The redistribution of responsibility
In response to this "mainstreaming" of the gig experience, we've observed the ways in which the government, individuals, employers and private businesses have done more to expand the social safety net and support workers, even outside of the traditional employee-employer based framework.
"When I think about my financial concerns a year ago, it felt like they were within my control. If I lost my job, it was probably something I did. That is not necessarily the case today."
Millennial – User Research Participant
The government has stepped up
The government has stepped up
Unemployment benefits (extended for the first time to gig workers)
Federal stimulus
Student loan deferment
"If it weren't for unemployment, I don't know what I'd do. I don't even like to think about it. I'd probably be starving right now."
Gig Worker — User Research Participant
Individuals and communities have stepped up
Individuals and communities have stepped up
Charitable giving up 28% since last year
Grants to food banks and other food assistance programs were up 667 % nationally
1/3 of U.S. households gave money directly to charitable organizations, other individuals or businesses
"The support from small businesses has been very encouraging- knowing that there are a lot of people in my same predicament, that has been such a comfort."
Small Business Owner — User Research Participant
Employers have stepped up
Employers have stepped up
Extra time off and stipends to support remote learning and gaps in child care for parents
Stipends for employees to set up home offices
Continuing health coverage for furloughed employees
"That kind of flexibility would now be a requirement if I were to take a new job."
John Tyreman- Father and employee at a digital advertising agency
Workers themselves have stepped up
Workers themselves have stepped up
Remote workers are working more hours–close to an hour more a day on average than before the pandemic
Workers are diversifying their employment
People who can are saving more money. Personal savings hit a record high of 32.2% in April
"I mean, I try to keep money in the bank in case something happens, but I also have a lot of side gigs. I've figured out different income streams because money just keeps me up at night."
Millennial – User Research Participant
Food for Thought
How can your organization step up to support workers?
Weaving a new net
The post-pandemic world will demand that we reevaluate what systems and structures outside of employment might better support people in the midst of uncertainty.
As the pandemic carries on, it's clear that in all likelihood, life will continue to feel less predictable and employment less secure for everyone. This, perhaps, will create renewed urgency around developing novel systems and support structures for people as they seek to achieve a sense of stability and security in their lives, even amidst uncertainty.
If the pandemic has shown us anything, it has shown us that employers do not necessarily play the central role we imagine them to. We all exist within a complex network of interdependencies that extend well beyond our employers – to our communities, or families, our identities, etc..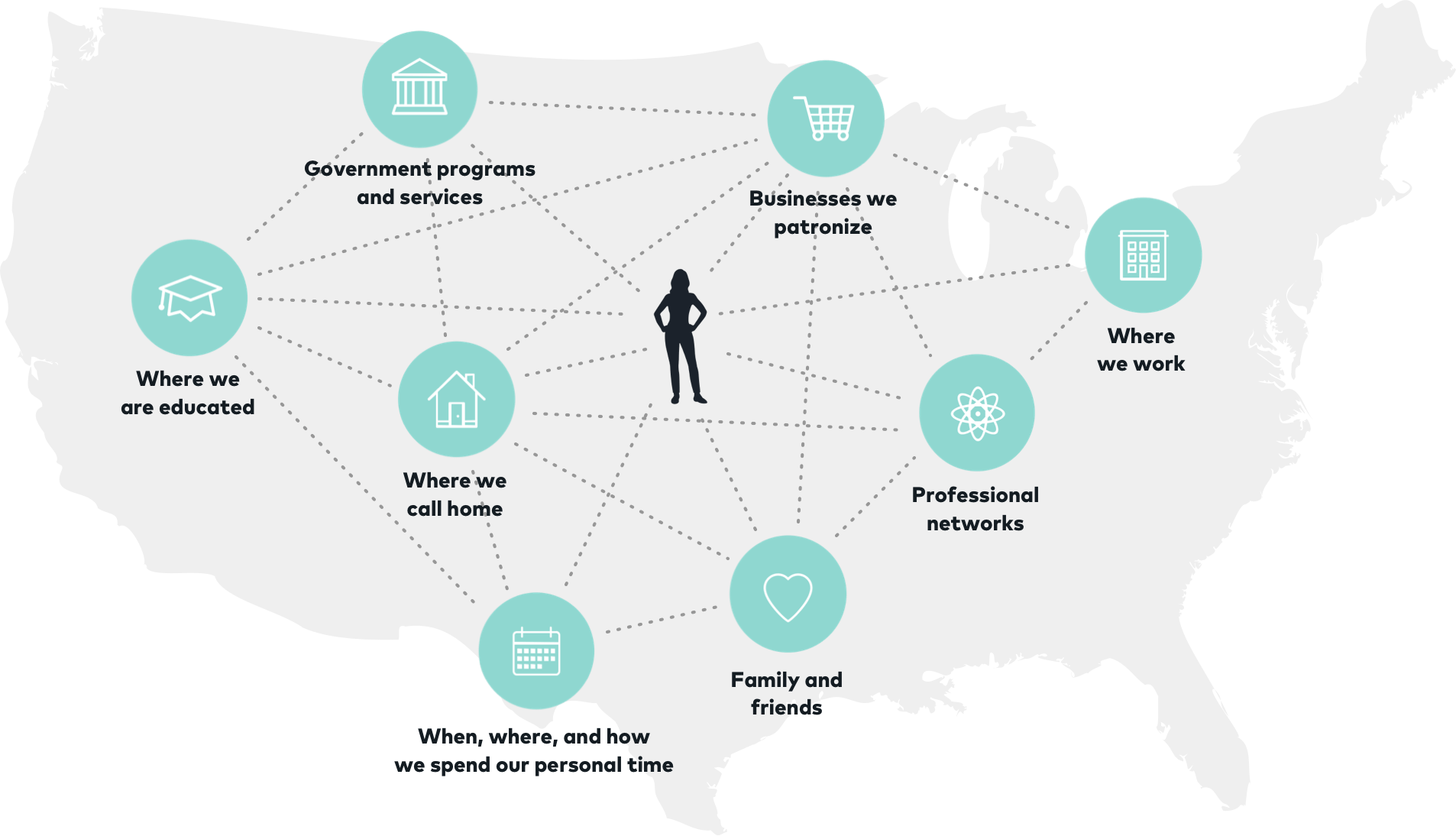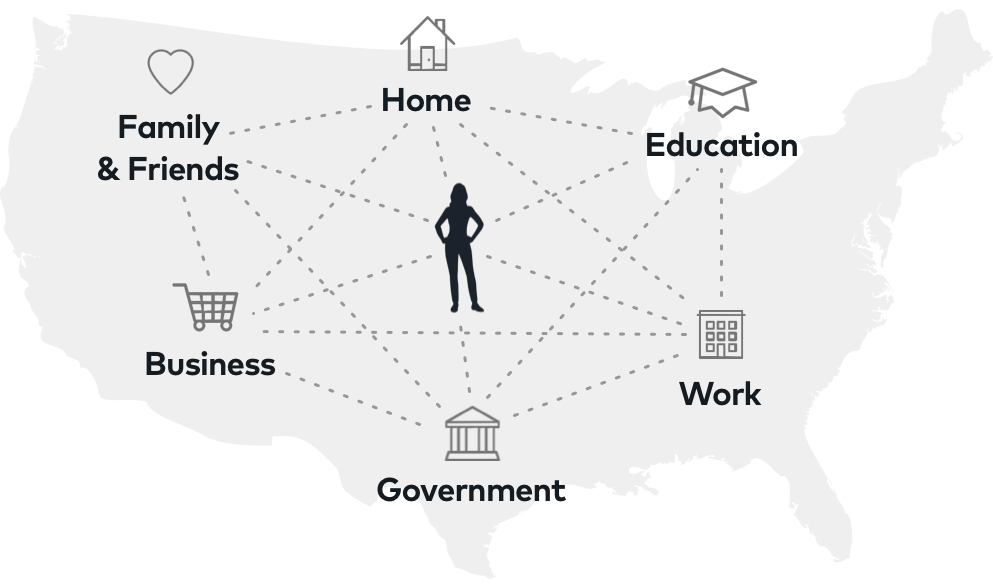 Yet access to the kinds of stabilizing structures so important in people's lives right now (ie. insurance and other types of benefits) continues to exist primarily through an employer, but also through a certain type of employment – one which is becoming increasingly hard to come by.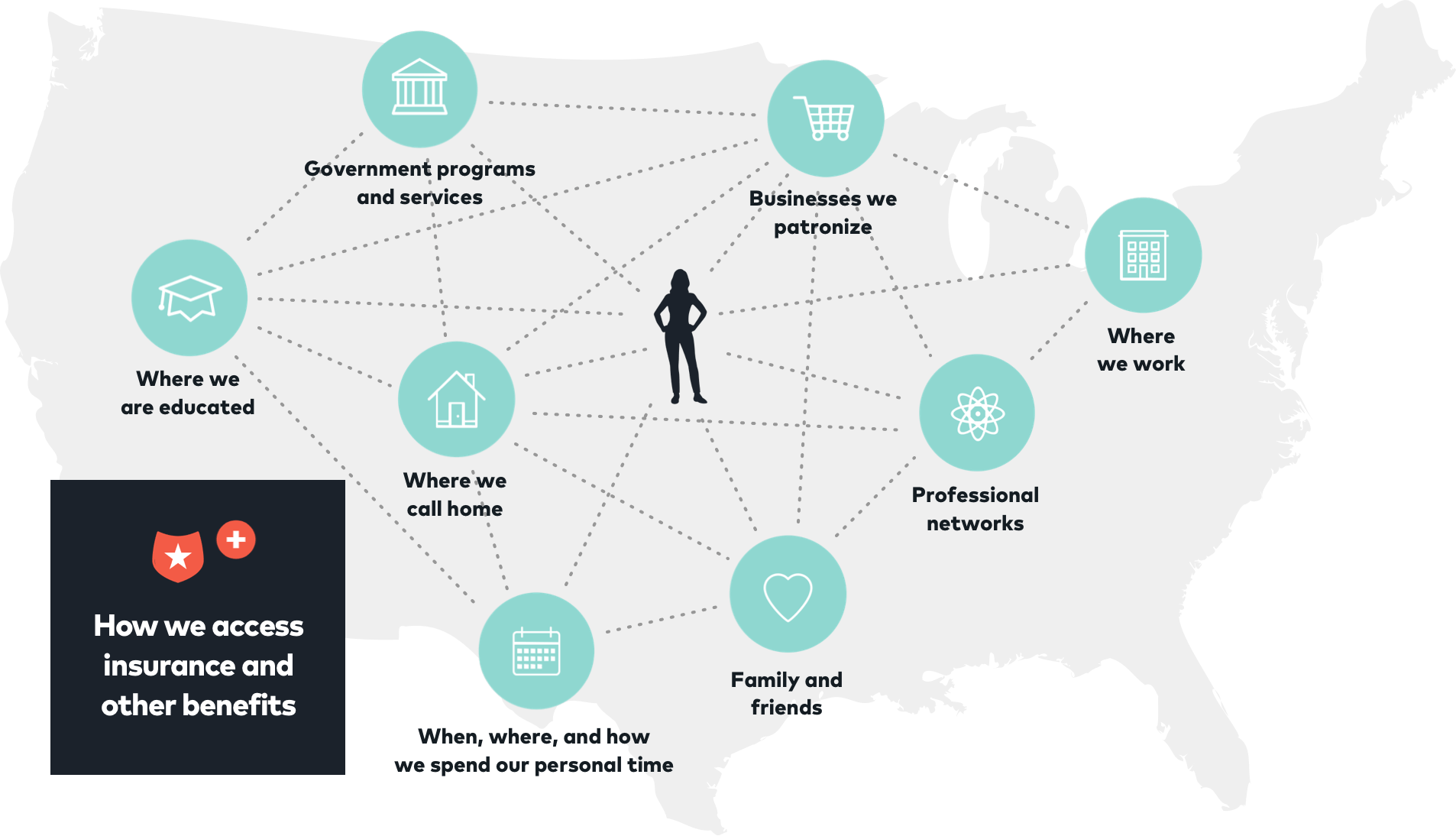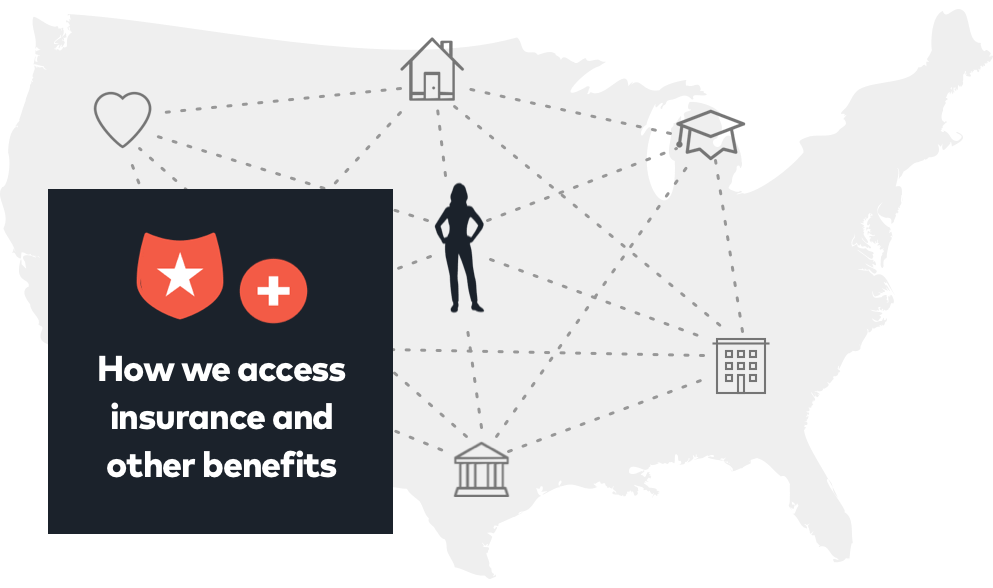 While fully addressing this issue may be a matter of structural change, in the shorter term can private industry find ways to weave the kinds of stability and security we get from full-time employment into our existing networks of interdependencies?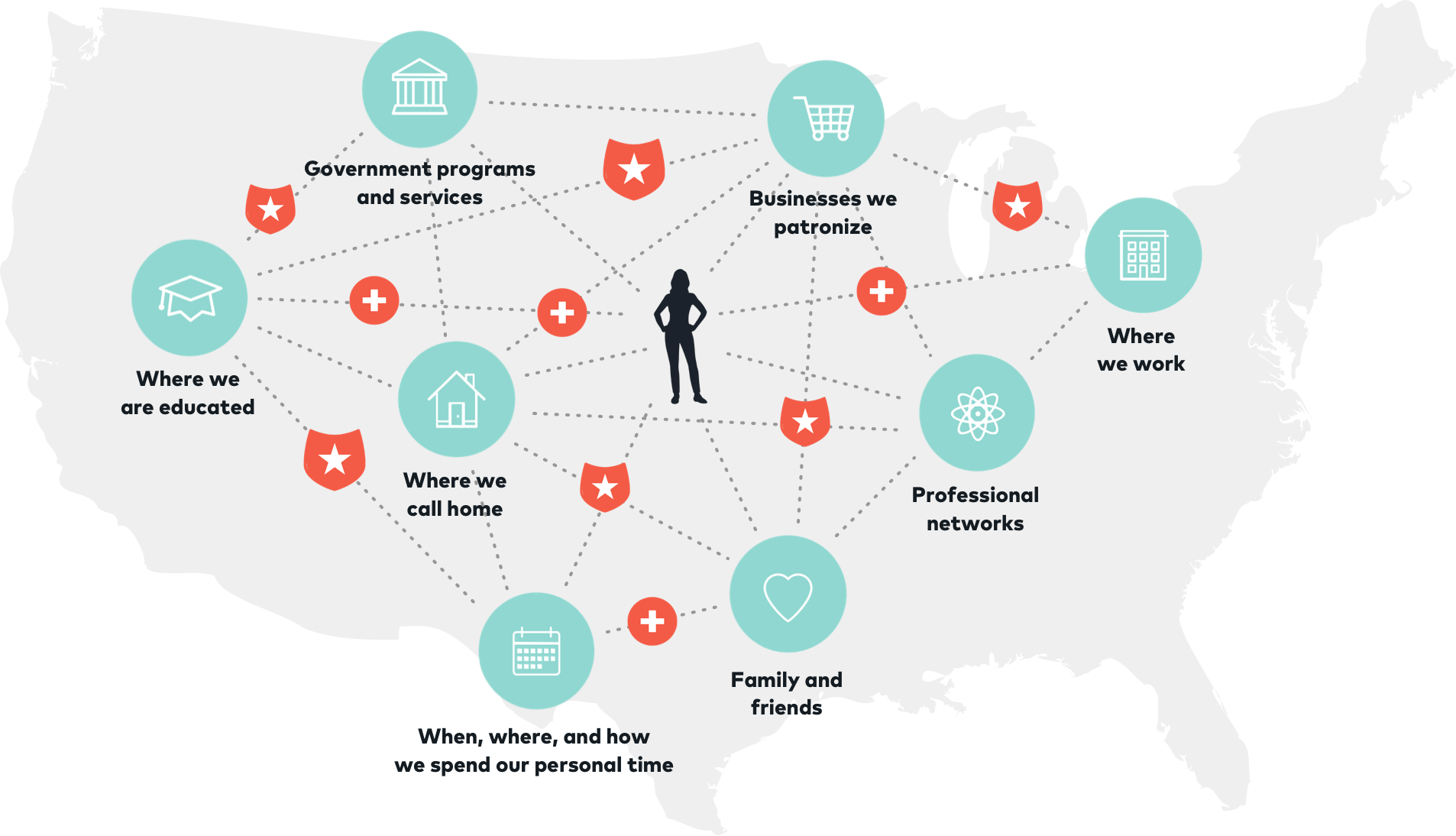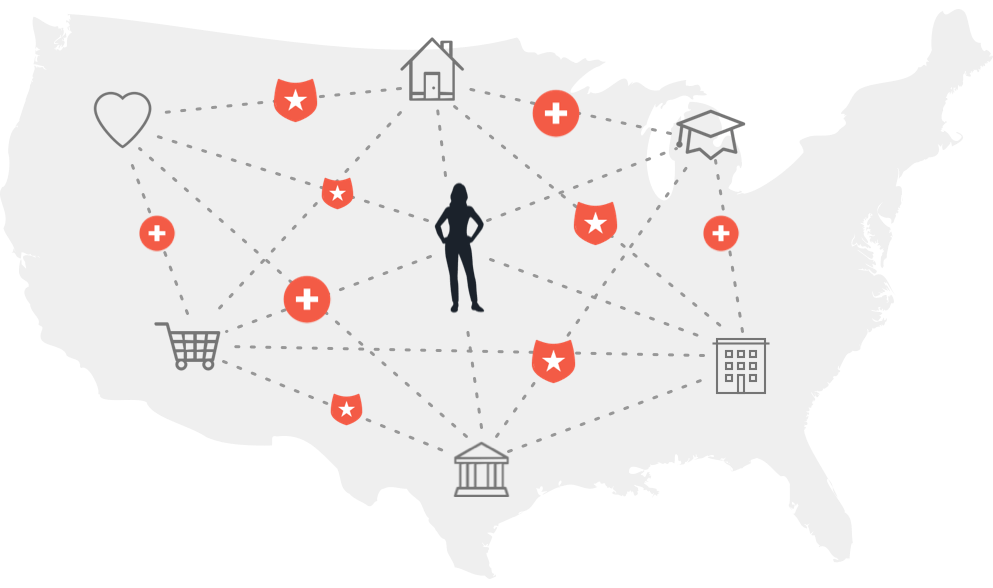 Press the pencil to add content.
Opportunities
How might we better serve and support our customers … as workers and as people?
"There's an enduring American myth that what's good for workers is bad for business and vice versa."
Katherine Eyster, Director of Strategic Partnerships & Policy Initiatives — The National Partnership for Women and Families
Below are the five things we believe businesses can start doing today:
01

Forget what you thought you knew
01

Forget what you thought you knew
Stop treating gig workers as a niche market, but instead as representing a realignment in terms of how people are working and living
02

Step in and step up
02

Step in and step up
Use this understanding to identify new risks, needs and opportunities that correspond with new and emerging ways of living and working. Expand core products and offerings accordingly.
03

Learn their love language
03

Learn their love language
Position risk mitigation products as something other than "insurance." People don't like insurance, and most don't think of it as something that protects them.
04

Advocate & Educate
04

Advocate & Educate
Empower your customers to see themselves as entrepreneurs. Consider it your job to help them feel entitled to the kinds of protection and support traditionally provided by employers.
05

Be an ally
05

Be an ally
Build solidarity amongst workers—help them organize and advocate for themselves. Work with them to better serve their needs.
Like what you read? Reach out to us to schedule a follow-up conversation or lunch-and-learn with our team where we'll dive even deeper into findings from our research.