Design insurance for gig economy workers that offers flexibility and stability
By 2020, 40% of the U.S Labor Force will be comprised of Gig Economy workers. Seeking out the flexibility and autonomy afforded by gig work, these workers are fleeing traditional employment, and in the turn assuming higher levels of personal risk. According to our primary research, these workers:
tend to be underinsured;
tend to underestimate their own risk; and
are undereducated about insurance and how it applies to the work that they do
Our Hypothesis
As of now, about 15% of gig workers rely on platforms like Uber, Upwork, or TaskRabbit to conduct their work. This figure is expected to grow. Motivated by a gap in available coverage for these workers and their general lack of understanding around risk, we thought: what if an insurance product existed for gig workers, designed around the apps they are already using, and which educated them about their risk while offering some of the security and stability of full time employment? So we did some research, built a prototype, and tested it. We learned alot about the mindsets of gig workers and what they are looking for in an insurance product.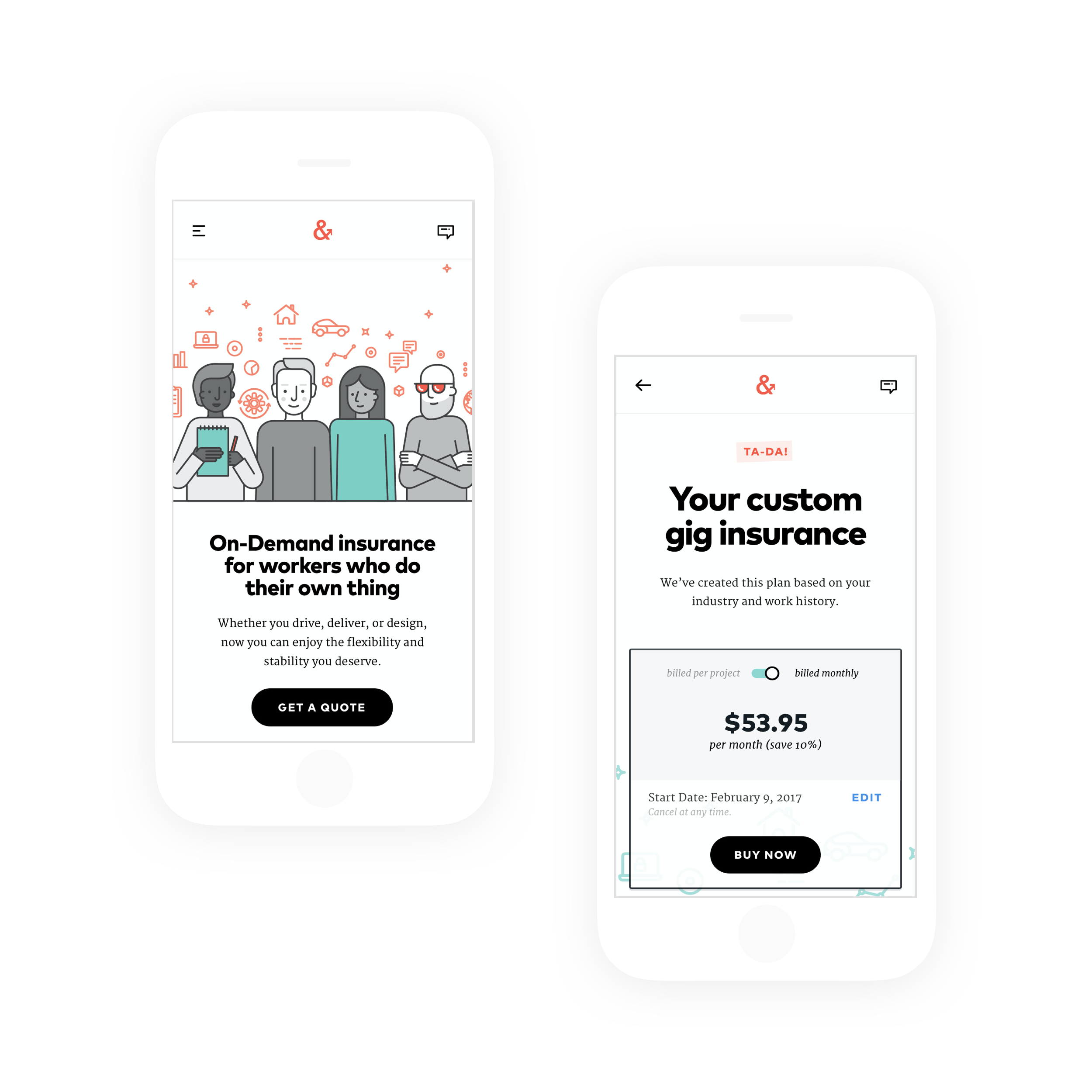 Gig workers are uniquely primed to purchase direct.
Because so many gig workers use apps to conduct their work and choose gig work for the autonomy and independence it affords, they are ready and willing to purchase direct, more so than other demographics. Our research found that the use of apps implies that:
gig workers tend to be technically savvy, and thus primed to purchase insurance online
gig workers also value their autonomy and independence, and feel comfortable conducting businesses on their own
Design Recommendations
Take a cue from gig economy apps and make buying insurance as easy as booking a freelance gig or hailing an Uber.
Design a simple, digital experience that allows users to do everything from quoting and buying insurance to submitting claims online.
Ensure that person-to-person help or expertise is easy and accessible when needed.
"For me, I'd prefer if purchasing insurance and support all happened online, with phone support as an option."
Andrew S., Freelances using Upwork
Gig workers need to be educated about insurance and about their risk.
Gig workers assume high levels of personal risk by working independently. They are typically not eligible for unemployment benefits, disability, or any of the liability protections afforded by a full time job. Yet many workers are under the impression that either:
their personal insurance policies–i.e. renters or auto insurance etc.–will cover them in a time of need
they don't need any kind of professional liability insurance or business insurance because they aren't a small business
Gig workers require education about the risks incurred by their gig work and how different types of insurance relate to this risk.
Design Recommendations
Design a highly educational homepage that creates awareness for users around the risks and relevant coverages.
Balance industry language with an approachable voice/tone that explains what the coverages are and why they are valuable and relevant.Accompany industry language like "supplemental auto" or "business equipment coverage" with relatable descriptions to help users identify how particular coverages apply to their work and unique risks.
"I don't know how driving for Uber and Lyft effects my insurance coverage."
Mary D., drives for Uber & Lyft
Insights
of the U.S. Labor Force will be comprised of Gig Economy workers in 2020
of Gig Economy workers we spoke with do not believe their work to be risky
Everything you need to know about a gig worker is already in the app.
The gig workers we talked to used apps to perform their gig work. These apps contained personal information, like names and birthdates, but also information about work– ie. how many hours a week someone might work, what their hourly rate is, what kind of car they drive etc. This kind of information can be used to generate a highly accurate and highly custom quote.
Design Recommendations
Make gig economy apps integral to your insurance product.
Give users an easy and secure way to connect to their gig apps during the quoting process. Be sure to explain the value of connecting the app and how the information from the app will be used to generate an accurate, custom quote based upon real-time data.
"I don't have to type in everything on my own–it all comes in through the app? That is a really nice surprise."
Ashleigh N., freelances using Fiverr, Upwork, & TaskRabbit
Not all gig workers are made alike.
Gig workers come from all different walks of life and perform many different types of work, from driving for a ridesharing platform to designing websites. The risks and needs of these workers vary widely, and their insurance coverage should reflect this. Gig workers want custom insurance packages and custom pricing catered to their budget and the unique risks of their particular line of work.
Design Recommendations
Offer custom policies and coverage based on the kind of gig work that users perform.
Specifically address your target audiences and tell them what you have to offer pertaining to their specific risks and needs. Use app data to design coverages that are custom to the unique risks of different kinds of workers
"It's for people like me."
Leo S., drives for Uber & Lyft
Gig work is flexible. Insurance should be too.
Gig workers choose gig work for its flexibility and autonomy. They want the same from their insurance. Like the full time jobs these workers have left behind, most existing insurance products are static and rigid. Gig workers want to do things like:
turn their insurance off and on
pay as they go
adjust their limits and coverages
Design Recommendations
Provide gig workers different payment options based upon their line of work. For example, giving drivers an option to pay their insurance per mile rather than a flat monthly rate can allow them to save money when they aren't working. Some freelancers, on the other hand, might like the option to turn their insurance on and off to cover them on a project by project basis.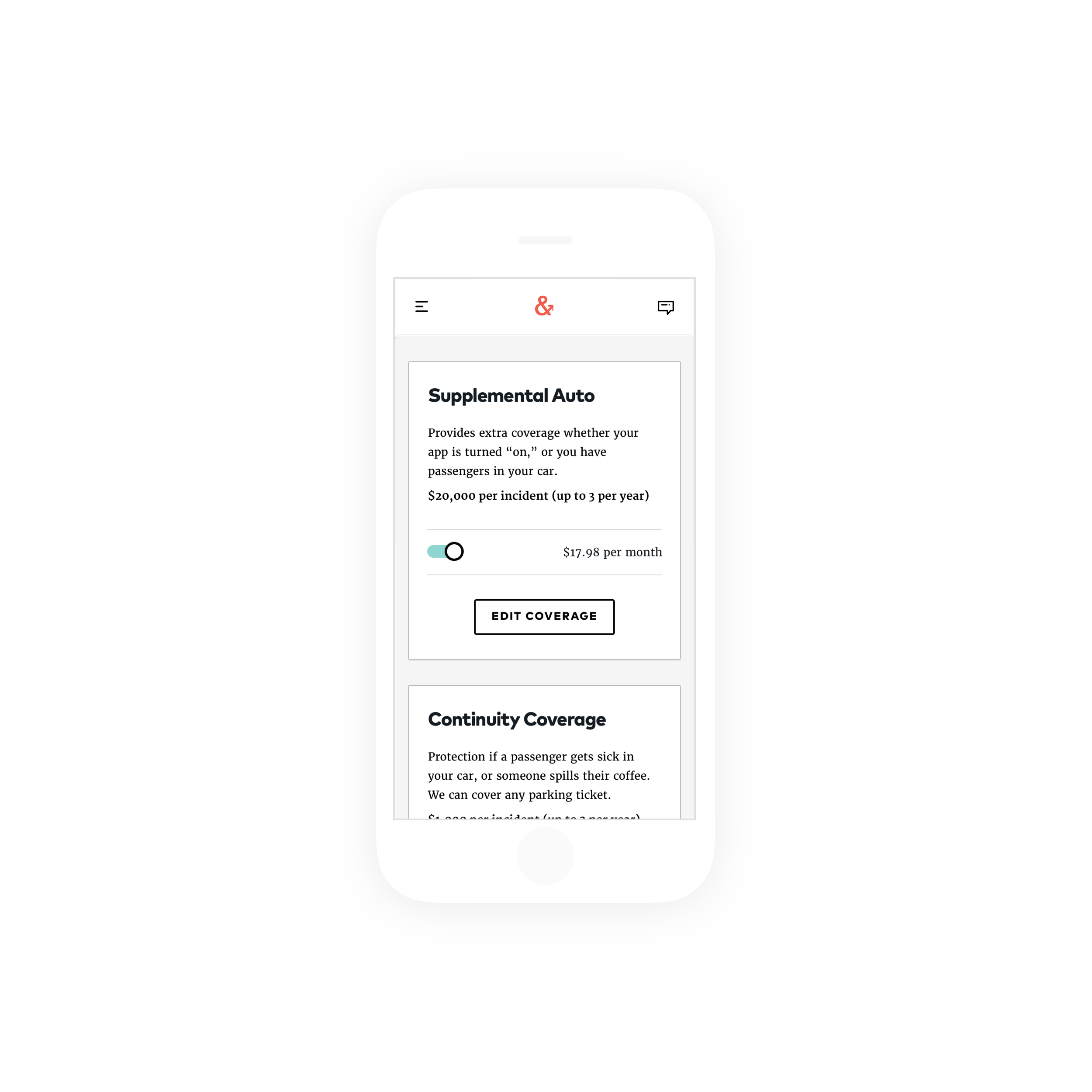 Gig workers want their insurance to be more than insurance.
Gig workers may already be paying for a personal insurance policy, may have some limited coverage from the app they are working for, or may have some kind of general liability add on. As one worker we spoke with put it, "so you guys are the third tier." For gig workers to see this kind of insurance as worthwhile, it needs to:
be more than "set it and forget it" insurance
deliver real value to the everyday life of a gig worker
make gig work easier, safer or more enjoyableby by providing something neither their gig apps or their other insurance providers offer
Design Recommendations
Aggregate the data gleaned from gig apps to create a dashboard for workers to help them keep track of things like schedules, hours worked, income earned, and other trends. This can be particularly valuable to gig workers who are using more than one app.