According to the latest data, 71% of consumers shop for auto insurance online, while only about 30-35% of them actually complete their purchases online. The conventional wisdom goes that because buying insurance is a complicated process requiring multiple layers of information input and understanding, people prefer to complete their purchase with a person, who can understand their information and then validate and explain it to them. This thinking accounts for the expansive multi-channel sales experiences adhered to by most traditional insurance companies.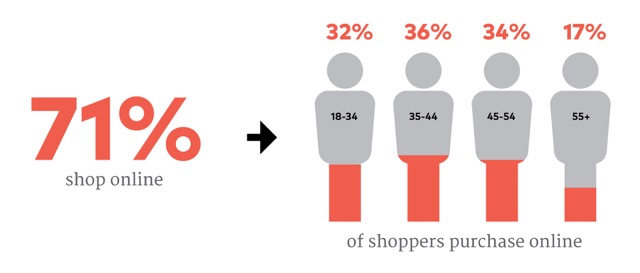 We have found, however, that this is not the whole story. When working with a leading global insurance company to develop their first direct-to-consumer product for quoting, buying, and managing auto and life insurance policies online, we conducted our own research and discovered that the problem isn't simply about complexity, it's about trust: according to our research, 80% of people do not believe online insurance quotes are accurate.
With lack of trust being a key barrier to binding insurance online, what can insurance companies do to improve consumer trust in online quotes and increase online purchases?
Strive for Accuracy
When it comes to accuracy, people are right to be skeptical: it's true that a lot of online quotes are inaccurate. The blame lies with both consumers and insurance companies. When generating a quote, insurance companies base the quote on the information submitted by the consumer, ie. personal information, vehicle information, driving record etc. Because insurance companies do not always validate this information against reports when generating an initial quote, and because consumers are not always honest when submitting their information, these quotes are often inaccurate. Without running a full Motor Vehicle Report (MVR), which provides history on a consumer's accidents and violations, and a Comprehensive Loss Underwriting Exchange (CLUE) report, which provides personal-auto and personal-property claims history, it is difficult for an insurance company to properly assess risk and provide consumers with accurate quotes the first time around.
So what's stopping insurance companies from running these reports initially?
One issue is that running these reports is expensive, and because people typically shop around for quotes, insurance companies don't want to pay for them until they are more confident they will be getting the business.
Another problem is that while running reports up front can provide a more accurate quote, it might also be a more expensive quote. Because most insurance carriers assume that price is always the most important variable when people are buying insurance, there is little incentive to run these reports up front if the more accurate price may deter buyers.
Finally, even if insurance companies did want to pay to have these reports run, they are at the mercy of the reporting agencies who actually run them, who can take their time–sometimes as much as 3 days, a fact which would likely impede the customer buying experience more than running these reports would enhance it.
There are a few insurance companies, like Ohio Mutual, who do practice running these reports initially, but they are the exception. One way to work around some of the limitations posed by reporting is to run CLUE up front, which is cheaper than MVR and can help to more accurately assess risk from the get go. While this is definitely a step in the right direction, it is a short term solution and it is incomplete. To truly solve the customer experience problems posed by reporting, insurance companies will need to put pressure on reporting agencies to provide reports more quickly and cheaply.
In the meantime, there are other things insurance companies can do to build trust.
Be More Transparent
While accurate quotes may make insurance companies nervous that they won't be competitive, our research showed that people choose insurance based on service quality, not just price–so long as price is in the same ballpark as other carriers. While price drives consideration, it does not necessarily determine final purchase. In fact, 60% of people in our research told us that price drives consideration, while only 30% of these shoppers said price was the deciding factor.
When designing digital solutions to encourage online purchases, insurance companies can do more than just focus on price, they can make the experience of buying insurance online more transparent and engender trust with the end user–building a relationship that goes much deeper than price.
One way to do this is to disclose the use of personal data at each point. For example, when a form asks a person if they are single or married or if they have a roommate, use the interface (in this part of the form) to communicate how this information is used to calculate the quote.
Another way to be more transparent is to identify each source of pre-fill data prior to its access. For example, if any information in the form is pre-filled, before displaying the pre-filled data, explain to the consumer where this information is being pulled from (a report or other publicly accessible information source, etc.).
Finally, show the effect of personal data on coverage and price. Make it explicit to the consumer that it's their zip code, the make and model of their car, or their accident history that is influencing their rate, for better or worse.
Make Quotes Adjustable
Make quote pricing feel more like a decision made by the consumer than a sentence handed down to them by the carrier. Empowering consumers with control over their rates is perhaps the most effective way to build consumer trust in online quotes. It gives consumers a sense of agency in how their quotes are calculated and diminishes the need for the validation they might get from a person on the phone, ultimately increasing their confidence in the insurance company and in their own ability to evaluate a quote and complete a purchases online. There are a few ways insurance companies can make quotes adjustable while still mitigating risk:
First and foremost, give users the power to fine tune their coverage. Rather than simply providing 3 or 4 options for coverage rates, insurance companies can build tools that allow users to see how their rates adjust when coverage is adjusted, even by small increments. Giving users opportunities to feel like they are making decisions about their coverages and rates, not just a faceless algorithm, will deepen their faith in their online quotes and will help them feel more comfortable assuming risk.
Let users broker their own personal data. Transparency in the quoting process assumes consumer agency. If I can see that having a roommate, a master's degree or a home without a garage are affecting my rate, I'll want to be able to play around with these data and see what happens to my rate. Give consumers the same flexibility you might give agents; let them experiment with what happens when they clarify certain kinds of information, adjust it, or altogether exclude it. Make sure they understand that more data can only help them, not hurt them. Showing consumers how, by providing additional information, they are helping not hurting their rates will inspire trust and honest.
Let users calibrate their own rating. In the same spirit of allowing users to broker their own personal data, let them experiment with calibrating their rating by adjusting things like vehicle use and behavior that may be keeping their rates high. By investing in developing more robust risk profiles insurance companies can have a clearer idea of what factors in risk calculation can be adjustable, giving them opportunities to trade in a little bit of risk for a larger market share.
Staying Ahead of the Curve
The good news is there are a handful of insurance companies that are already trying to solve issues of consumer trust using these principles.
One is Lemonade, the darling of insurance disruption. Lemonade is a peer-to-peer insurance company selling homeowners and renters insurance. They aim to make buying insurance a "delightful" experience, which they do in a variety of ways, one of which is by making the process of buying insurance online painless and easy.
First, they make the process more transparent by showing a specific risk rating that explains how your a rate is calculated
Lemonade also lets users fine tune their coverage. After a quote is generated, users can adjust the level of coverage they want for specific types of claims.
MetroMile is the only insurance company in the nation providing pay-per-mile insurance. They are trying to transform how auto insurers calculate risk by making it more about miles driven than about demographic factors or driving records
According to MetroMile CEO Dan Preston, "Seventy percent of the variants around expected losses can be derived from mileage." Which is why if you drive under 12,000 miles per year you can save substantially.
MetroMile also has a driving app which helps simplify car ownership, particularly in urban environments. Not only does the app measure miles, but it provides notifications on car health and also lets drivers know key information, like reminders of where they are parked and whether they are parked in street sweeping zones.
Progressive, a more traditional auto insurance carrier, is using telematics to transform how insurers calculate risk. Snapshot, their telematics device, is a device drivers can place in their car that observes their driving and calculates risk accordingly, ultimately providing drivers with a custom quote. Progressive gives consumers the opportunity to enroll in a 30 day trial. They will send drivers the device and after 30 days, will use the data gathered to calculate a quote.
In addition to using telematics to increase faith in the quote, they have also given consumers more control over the quoting process. For instance, like Lemonade, they give consumers the ability to fine tune their coverage.
Drivers can also name their own price, and Progressive will generate a quote accordingly.
While insurtech startups are quickly transforming the insurance industry by putting consumers first, more traditional insurance companies are well-positioned for continued success so long as they are invested in innovation and in constantly rethinking existing models to make for better customer experience for everyone. The key is creating trust. Insurance companies have known this all along, it's just that how they go about it looks a lot different today than it did 25 years ago.
(Articles only appear in the frontend.)