May 9, 2018 – New York, New York – Today Cake & Arrow, a customer experience design and innovation agency that works across the insurance industry, announced the publication of a new report in partnership with Coverager exploring the modern landscape of insurance and offering a deep dive analysis of Millennials.
Drawing upon Coverager's extensive proprietary industry research and a year's worth of quantitative and qualitative research into Millennial values, mindsets, and attitudes about insurance, the report, entitled Millennials & Modern Insurance: Changing the Way Millennials Think About Insurance, takes a critical look at the insurance industry at large, challenges existing stereotypes and assumptions about Millennials, and encourages the insurance industry to adjust the way it thinks about and designs insurance products for Millennials. The report includes:
A state of the industry review, including a look at dominant trends, where the funding is going, who the key players are, and what the industry is currently doing to respond to Millennials;
An analysis of convenience and price as the driving forces of innovation in insurance and the economy at large, including where the opportunities and limitations exist for insurers;
An in-depth look at current Millennial mindsets around insurance and recommendations for how the industry can go beyond price and convenience to shift the paradigm and change the way Millennials think about insurance.
A preview of two insurance product prototypes that we designed based upon our research, including learnings and insights from two rounds of user testing conducted with Millennials.
"Millennials already comprise the majority of the U.S. workforce and, as of this year, are set to surpass Baby Boomers as the largest living adult generation," explained Josh Levine, Cake & Arrow Founder and CEO. "And while the industry is significantly behind when it comes to designing, building, and selling products that resonate with this generation, our research found that now, more than ever, Millennials want and need insurance. Assuming the industry is willing to shift its approach and way of thinking, it is uniquely primed to address Millennial needs. We are confident that the research and findings consolidated in this report will help accelerate this shift."
Free Report
Change the way Millennials think about insurance.
Cake & Arrow and Coverager present Millennials & Modern Insurance, a comprehensive report to help the insurance industry get off the hamster wheel and start thinking differently.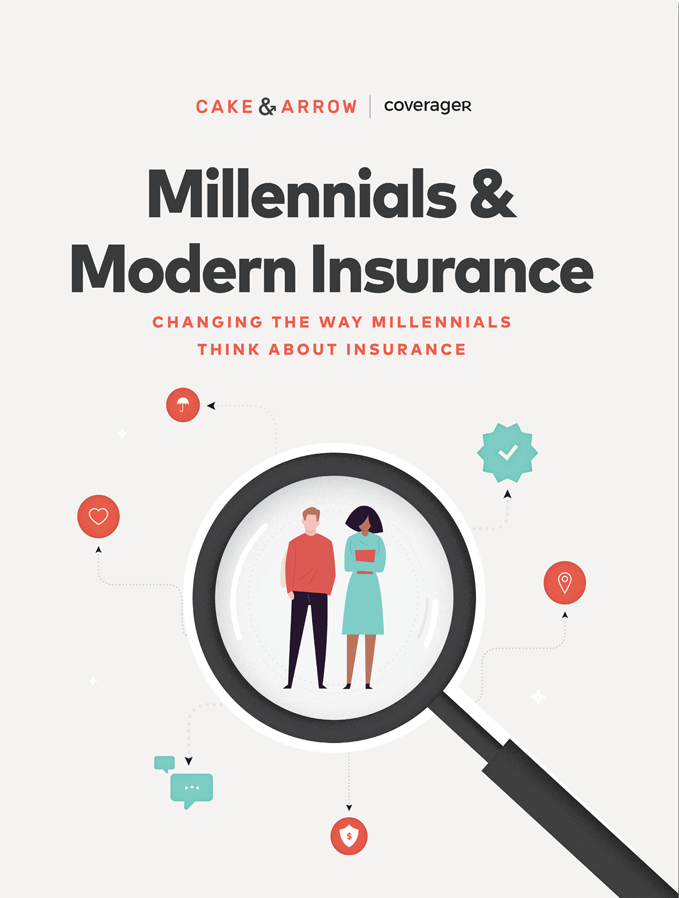 (Articles only appear in the frontend.)