Last month, Cake & Arrow joined almost 9,000 participants across 57 countries at ITC Vegas 2022. With hundreds of exhibitors, start-ups, and sponsors, the expo hall, with 50% more booths compared to last year, showcased expertise, knowledge, and opportunity in the insurance value chain. The expansive space was buzzing with people, ideas, and even puppies!
While it's the people (and let's be honest, the puppies) that primarily keep us coming back to ITC year after year, it's also the ideas that get shared on stages and proliferate via conversation, which help us keep our finger on the pulse of the industry, anticipate future trends, and consider how our service offering as human-centered designers and researchers fits into the evolving needs and priorities of our customers–the insurance carriers. In past years we have observed the industry learn and embrace the language of customer centricity, grapple with how to redefine itself amid disruption, and this year, get to the core of what both of these trends are really about: what it means to place humans at the heart of insurance. Hint: the answer is not DTC.
In fact, one of my favorite moments of the conference occurred during a breakout session on DTC, when the moderator asked, "why is insurance still doing things the old way?" The response from the panel of insurtech incumbents was spot on: "not everything is about going direct. People still like talking to someone." Humans, they argued, provide expertise, reassurance, and connection in ways that technology and digital solutions can't compete with, at least not yet. What's new is not necessarily better and there may be things about "the old way" that would behoove the industry to carry forward. The future of insurance isn't just about embracing technology but about facilitating the best possible experience for the human beings involved in the insurance value chain, and understanding which solutions, whether human or technological, best facilitate this.
From the expo floor to the main stage, from the lunchroom to the breakout sessions, these are some of the key themes that stood out as top focal points for the industry. While building the best end-to-end customer experience is key, many are starting to realize there are other key "customers" internally that need a better end-to-end experience too.
1. Agents are people too, and their experiences matter
While for years, the prognosticators have predicted that agents would soon be a relic of the past, more recently carriers have come to embrace the agent as a critical stakeholder in the insurance value chain and many are now looking to prioritize the agent experience as an aspect of their overarching customer experience strategies. It's a perspective we have embraced for as long as we have been working in the industry, a topic we have recently published visionary thought leadership on, and a problem we have tackled head-on with our clients. It's exciting to see more carriers get on board.
REPORT
Learn how the insurance industry can empower independent agents to empower and and connect their small business customers and cultivate trust for a new generation of small business owners.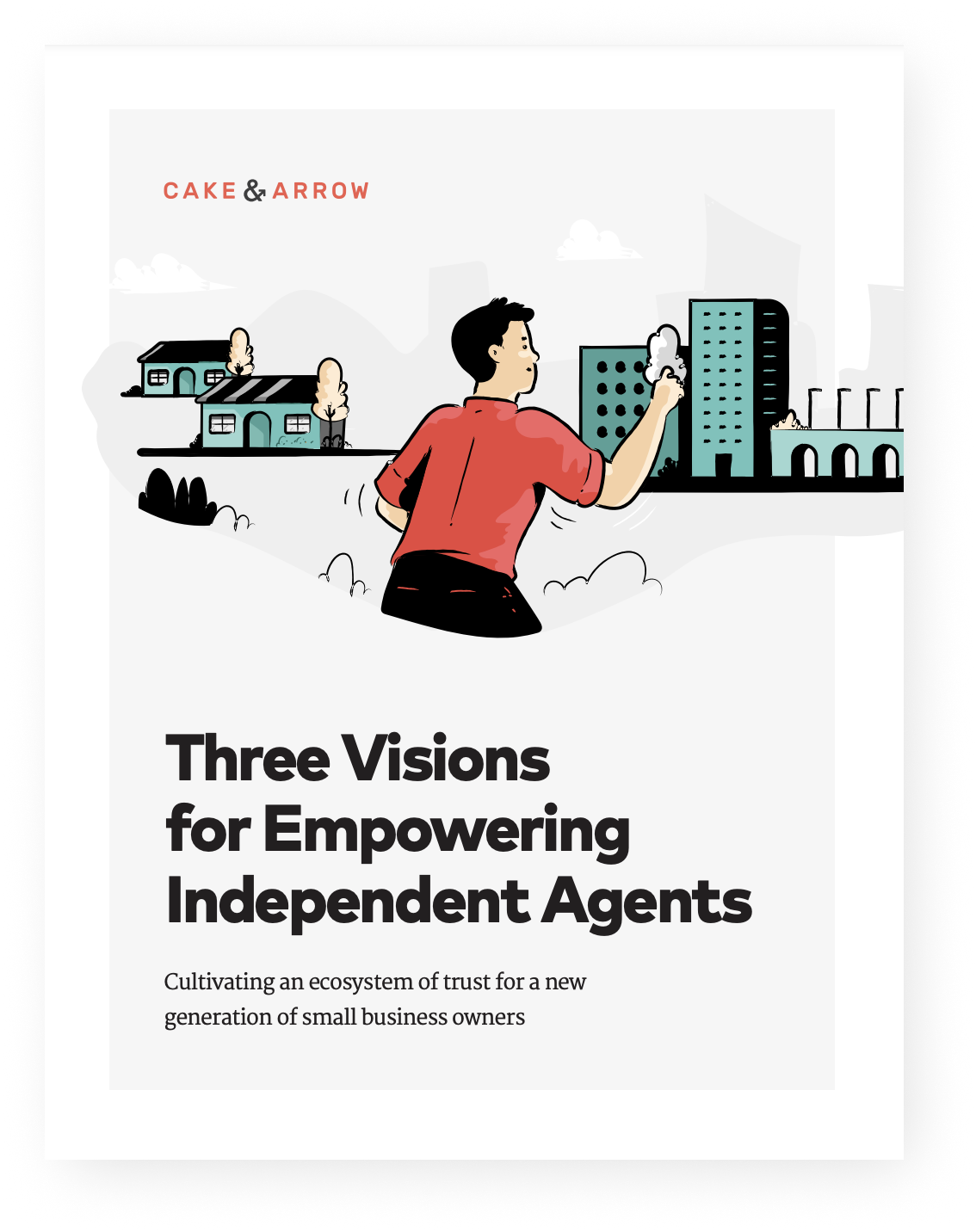 While a contextual, frictionless experience is still a primary focus when it comes to building better experiences for the end consumer, what we heard at ITC suggests that the industry is now putting more focus around providing a similar experience for agents, as it becomes clear that a good agent experience is not distinct from a good customer experience. And what's more, carriers are now thinking about how to build digitally enabled, timely, smart, seamless interactions between consumers and the agents.
To this end, we heard about agent assist tools and optimization workflows (like sentiment analysis and listening technology) as well as digital assist tools to help agents with rudimentary tasks. Rather than replacing the agent with technology, the emphasis is now on building (or buying) technology that frees up agents to do what carriers now recognize as the important and sophisticated work of building relationships and honing expertise.
2. What's good for the claims adjuster is good for the customer
While modernizing the agent experience has historically taken a backseat to the customer experience, the claims adjuster experience has suffered even more neglect. Throughout the conference, I saw several presentations driving this point home, referencing the old-school forms and questionnaires still used today that look straight out of the 1990s. The good news is people are finally starting to talk about how to modernize and digitally enable the paper-heavy claims process for the adjusters, and it's a topic that got a fair amount of stage time at ITC.
Although much of the focus at ITC was around how technology can speed up the claims process, one of the themes that emerged was the unintended consequences of how new (and often imperfect) technological solutions can damage the customer experience and create problems for the claims adjusters behind the scenes. For example, while using a mobile app to take a picture of a damaged car and file a claim sounds great, if it doesn't work for all car types (which it often doesn't), in your attempt to improve the customer experience, you've created not only a worse customer experience but also a new problem for the adjusters to solve–and a clunky frustrating experience for everyone. Considering how the underlying processes and the people that perform them might be optimized alongside or even before shiny new customer-facing solutions are implemented can be a win-win for customers and claims adjusters alike.

Perhaps the most tell-tale sign that the tides are beginning to turn could be found in looking to the winner of ITC's first startup pitch competition. 10 startups developing innovative impact and producing dynamic changes across the insurance value chain pitched and competed in this year's competition. The winner? Stream, an insurtech startup that automates the highest frequency adjust routines, saving adjusters time and improving the claimant experience–a technology-focused not simply on the end consumer but on improving the experience of claims adjusters in the service of customers. An indicator, perhaps, of where the industry is headed.
3. There is no embedded insurance without a deep understanding of the customer lifecycle
"There have been many false starts with embedded insurance. Are people really embedding or are they just releasing a new channel" – Pranav Pasricha, Global Head of P&C Solutions, Swiss Re
Perhaps no topic has received as much air time at insurance meetups and events in recent years as embedded insurance. As all buzzwords and industry jargon eventually lose their meaning, such is the fate met too by "embedded insurance." At this year's ITC it became clear that while the term is on the tips of nearly everyone's tongues, there is much confusion about what embedded insurance actually is and means. Is embedded insurance a new product or is it a new channel? Well, as it turns out it is both; a seamless service for a customer's digital lifestyle and an omnichannel strategy through an invisible and hassle-free distribution. At the heart of both definitions, and what marries them together? A deep understanding of the customer lifecycle and the micro-moments that comprise it. 
While the term has been around for a while (long enough for people to start disagreeing on what it means anyway) what is new with embedded insurance isn't its definition, but the breadth of options and partners to create more micro-moments within the customer's lifecycle, making insurance an invisible part of the purchase, not just an add-on option. At this year's ITC the focus wasn't so much on exploring embedded insurance as a product but on recentering and surfacing the moments and micro-moments that make up the customer's life cycle. Without a deep understanding of this, there is no embedded insurance. The challenge for insurers now is to find the moments that matter for consumers and provide a contextual, frictionless way to ensure these moments are protected from the unexpected. From the moment a person receives their paycheck to the moment their California camping trip is canceled due to wildfires, there are micro-moments everywhere. It's just a matter of recognizing them. And this is the task of insurance carriers and their partners. Embedded insurance is part product, part distribution. And investing in content, partnerships, and value-adds is the cost of acquisition.
4. Data is king, but we still need humans to make sense of it
By no means a new topic to ITC, data continues to be a major focus– in part because no one has quite figured out what to do with their data. While almost everyone agrees that data needs to be leveraged to improve the customer experience, what isn't well understood is that doing so isn't just about having the data and having more of it. It is about knowing when and where to use it. A process that requires humans.
While in past years the focus had been more on how to acquire data, this year at ITC the conversation took an existential turn. Is data actually a single source of truth, or rather a rather one pool of information to pull from—a pool of information that requires interpretation and synthesis? Work done by actual humans. Recognizing that data comes from humans and is interpreted by humans, speakers at the conference seemed to acknowledge, needs to be a consideration when investing in data to build a better customer (or agent or claims adjuster) experience. Good, usable data that can be leveraged to benefit customers, requires smart competent humans to figure out how to best do so.
_____
ITC 2022 featured an astounding and impressive array of new and innovative tech solutions—and rightly so, it is a tech conference after all. And technology, of course, can make a lot of things, including insurance, better. But with so many companies vying for insurance carriers' and brokers' business, is the pendulum swinging too far too fast? As Rafat Srosh, VP of Engineering at Symetra, reminded us in the session, Building a Modern Data / Analytics Capabilities, "Technology is easy, people and processes are what's difficult."
And in listening in on the sessions at this year's ITC, this question of people and processes, not the technology itself, seemed to be the topic on everyone's minds. How to recenter the technology, the tools, the data, and the products themselves around the human beings who use and benefit from them. It will no doubt be a question the industry will continue to grapple with for decades to come.
At Cake & Arrow, it is our mission to bring businesses closer to their customers and place humans back at the heart of insurance. Visit our website or contact us to learn more about how we can help your organization humanize insurance.
Press the pencil to add content.