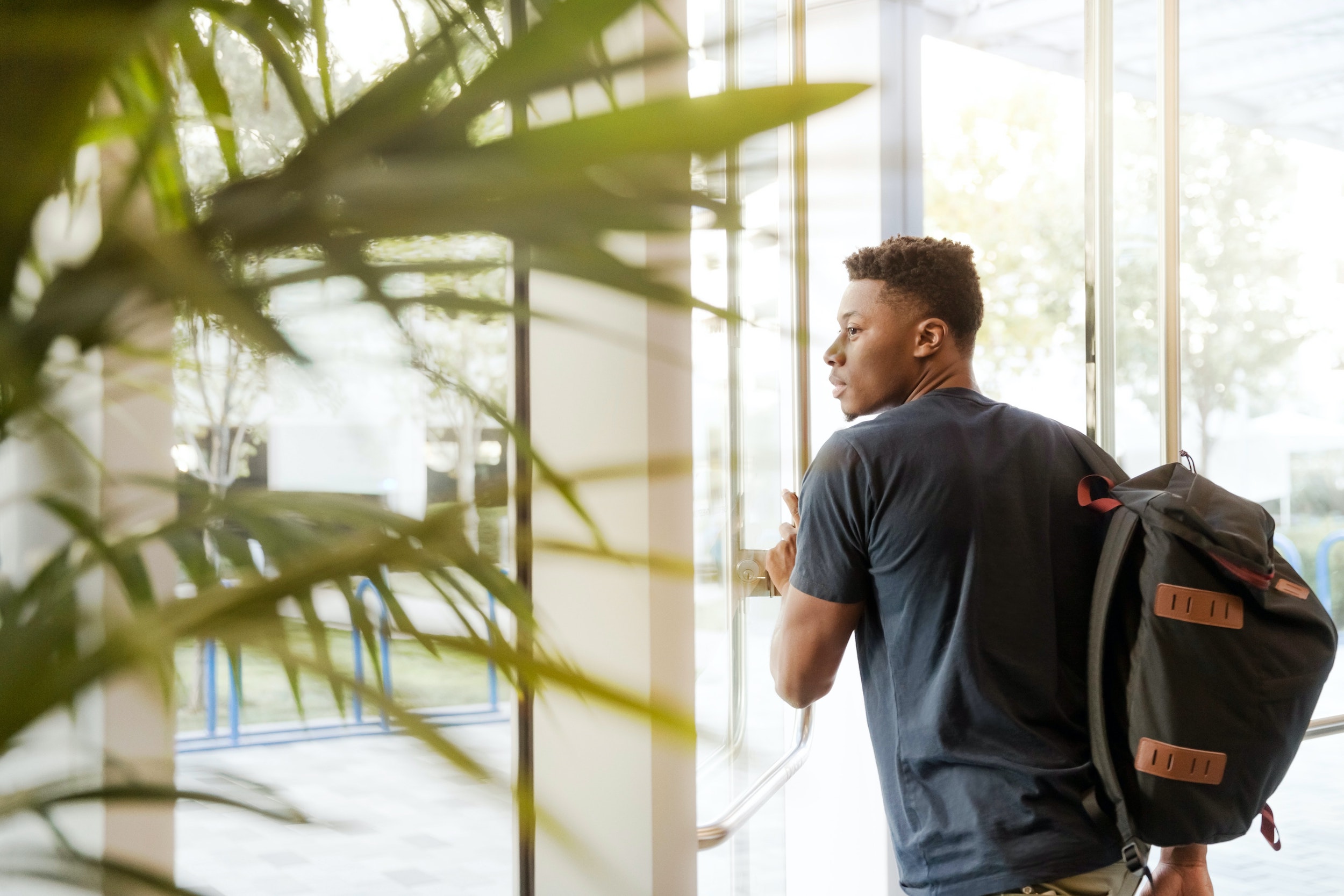 Help insurance industry leaders assess the gig economy landscape and grow their businesses
As the broader economy increasingly relies on independent contractor and non-standard work arrangements—by some counts between 25 and 30 percent of all workers engage in some form of non-traditional or gig work—carriers, re-insurers, brokerages and independent agents look to evolve their products and services to serve this large and growing audience.
With a long history of designing standard-setting customer experiences for P&C and Disability Insurance applications, Cake & Arrow has naturally expanded our expertise to help clients better understand the coverage gaps, risk profiles, and aggregate and individual needs of gig workers. 
As independent researchers and in partnership with industry leaders, we've surveyed and interviewed gig workers, platforms, and employers. We've mapped the opportunity space and sized addressable markets from several angles, and answered the big questions our clients ask as they plan their moves into this attractive new market.
Services Provided
Quantitative and qualitative user research
Market analysis
Project 1: Measure coverage gaps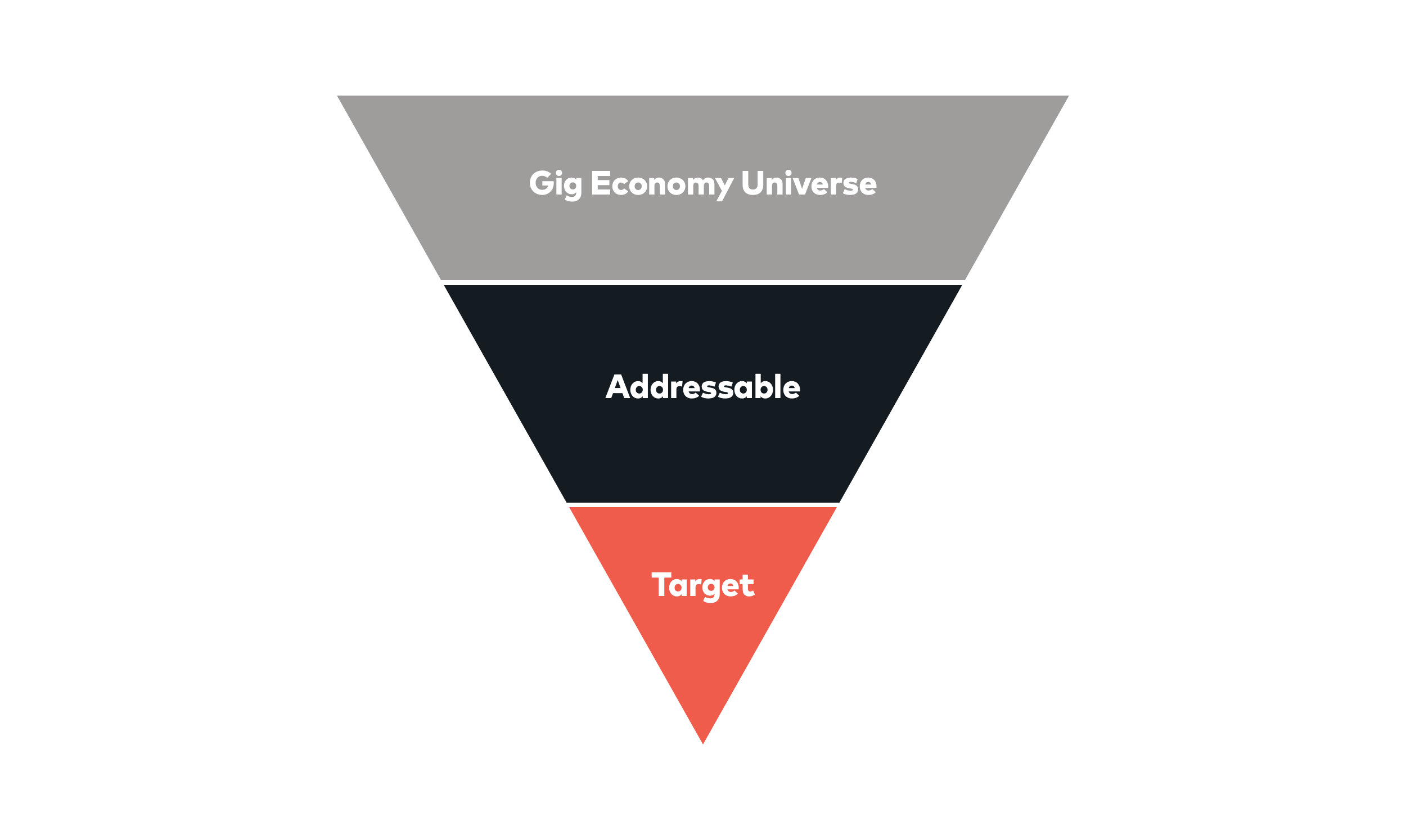 Identified risk exposure of target segments for a top 5 global P&C insurer
Following a top-down, research-based methodology, we narrowed the universe of gig workers to target segments. Through an online survey of more than one thousand U.S. adults, we investigated:
What opportunities and risks do gig workers face?
What does coverage look like for the average gig worker? How does coverage vary across different segments?
Where are the biggest gaps, and which represent the largest opportunity?
17% of traditional workers say they will definitely or probably go independent in the next 2-3 years
Project 2: Explore geographic markets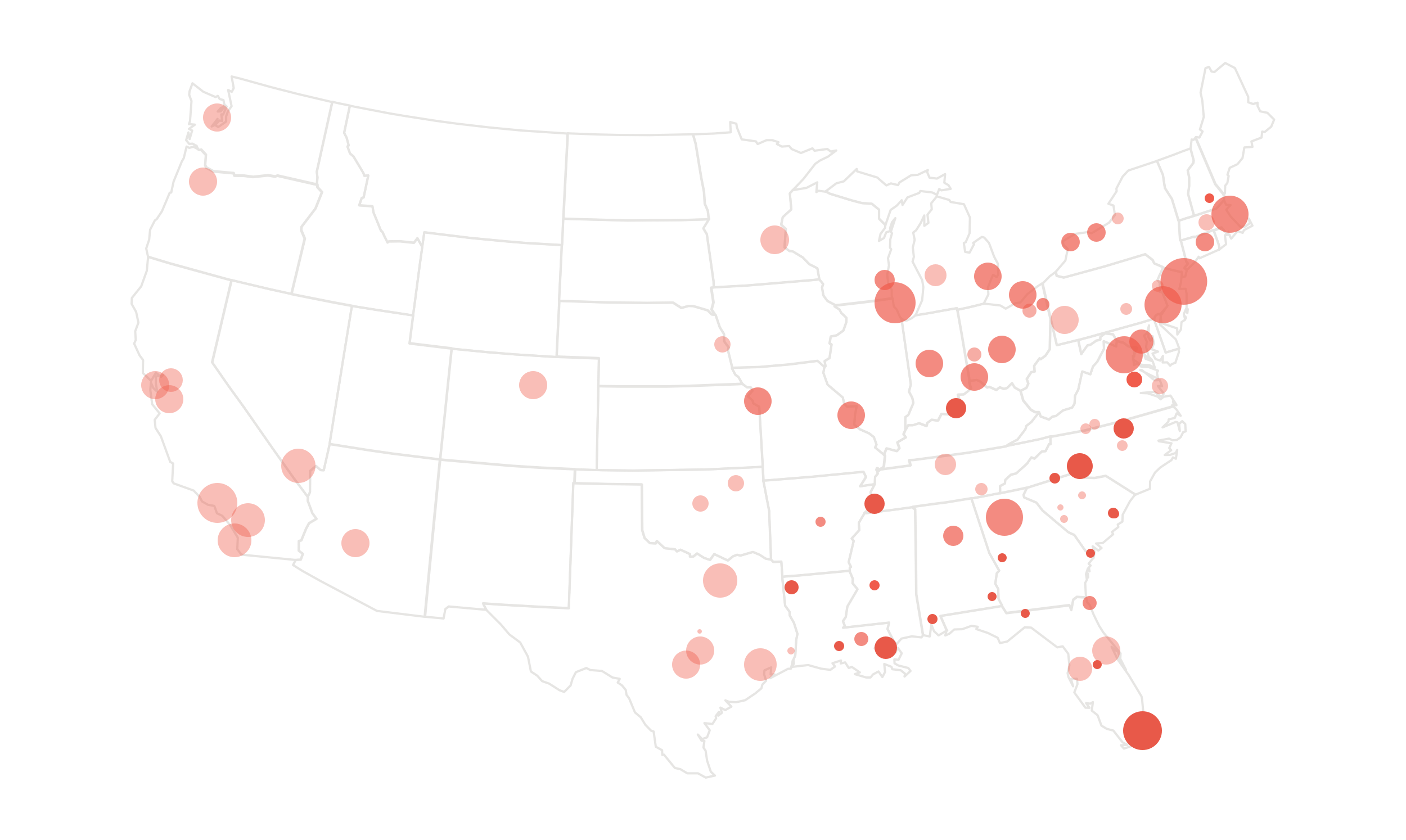 Mapped the opportunity for large state assurance provider
We assessed the total addressable market of independent workers in a given state, and surveyed a representative sample to create a framework for targeting discrete segments, researching:
What is the nature of the gig work that presents the greatest opportunity in this area?
How exposed to income loss due to injury or illness are these workers?
How do these workers view risk, compared to the traditional workforce?
Project 3: Evaluate platform partners
Investigated potential gig work platform partners for leading affinity small business insurance agency
Drawing on our research into the overall gig platform landscape, we zeroed in on a subset of potential platform partners for insurers, and interviewed veterans of those platforms to learn: 
Which platforms are gig workers using most often?

What is the relationship between gig workers and these platforms like?

What are the specific coverage gaps of those workers?

Based on usage patterns and user profiles, which platform users represent the best opportunity?

How can insurers best partner with those platforms to reach their users?

Project 4: Understand gig workers
Primary research into the risks and realities of gig work, from a user-centered design perspective
Our study, "Insurance in the Age of the Gig Economy: What happens to insurance when business gets personal?" is a thorough investigation into the mindsets and behaviors of Gig Economy workers as they relate to insurance. This comprehensive survey of independent workers looked at:
How gig workers perceive their work

How the integration of work and personal life impacts perceived insurance needs

How preconceived notions of insurance influences shopping and purchasing behavior

How the industry can evolve to better address the needs of gig workers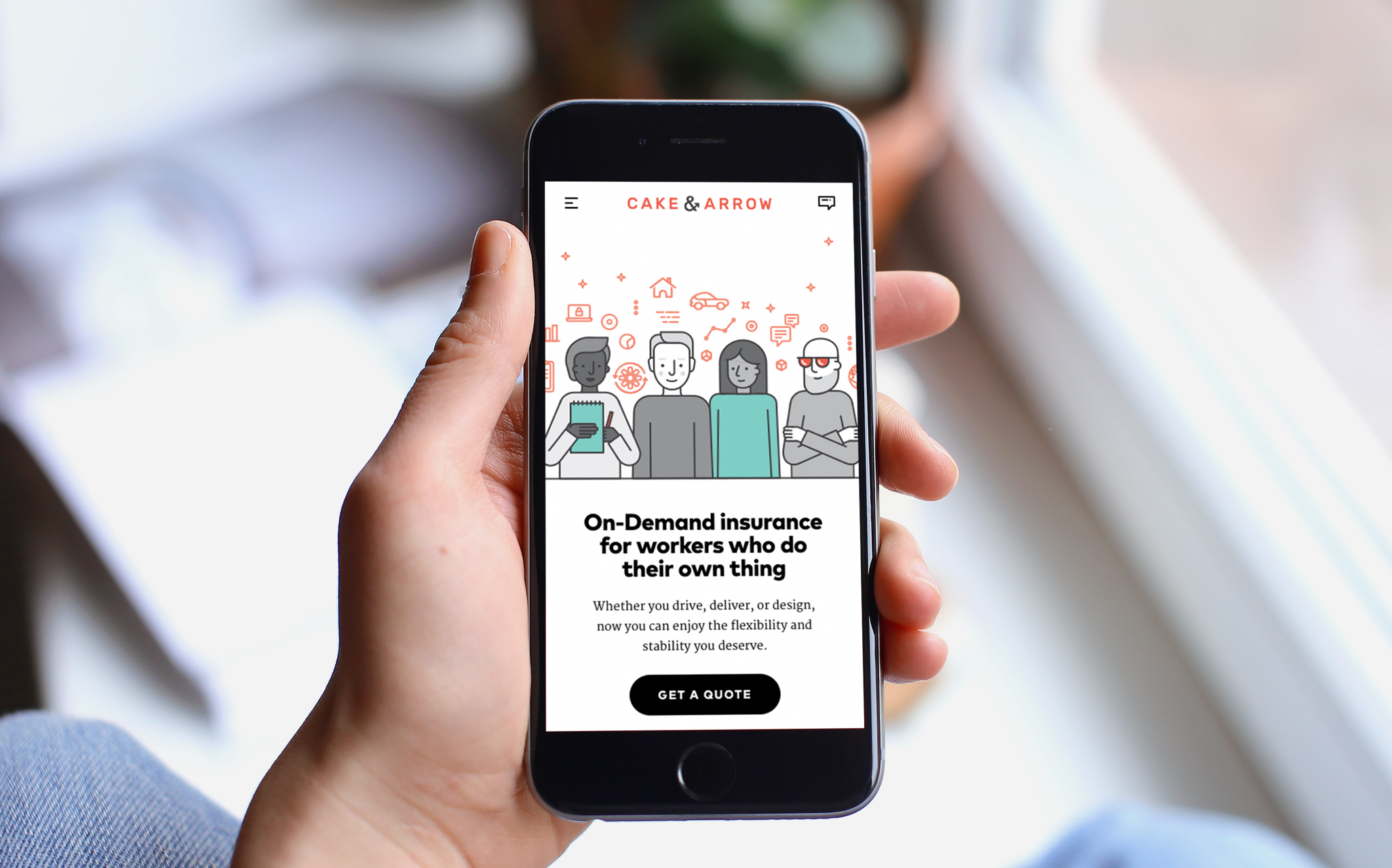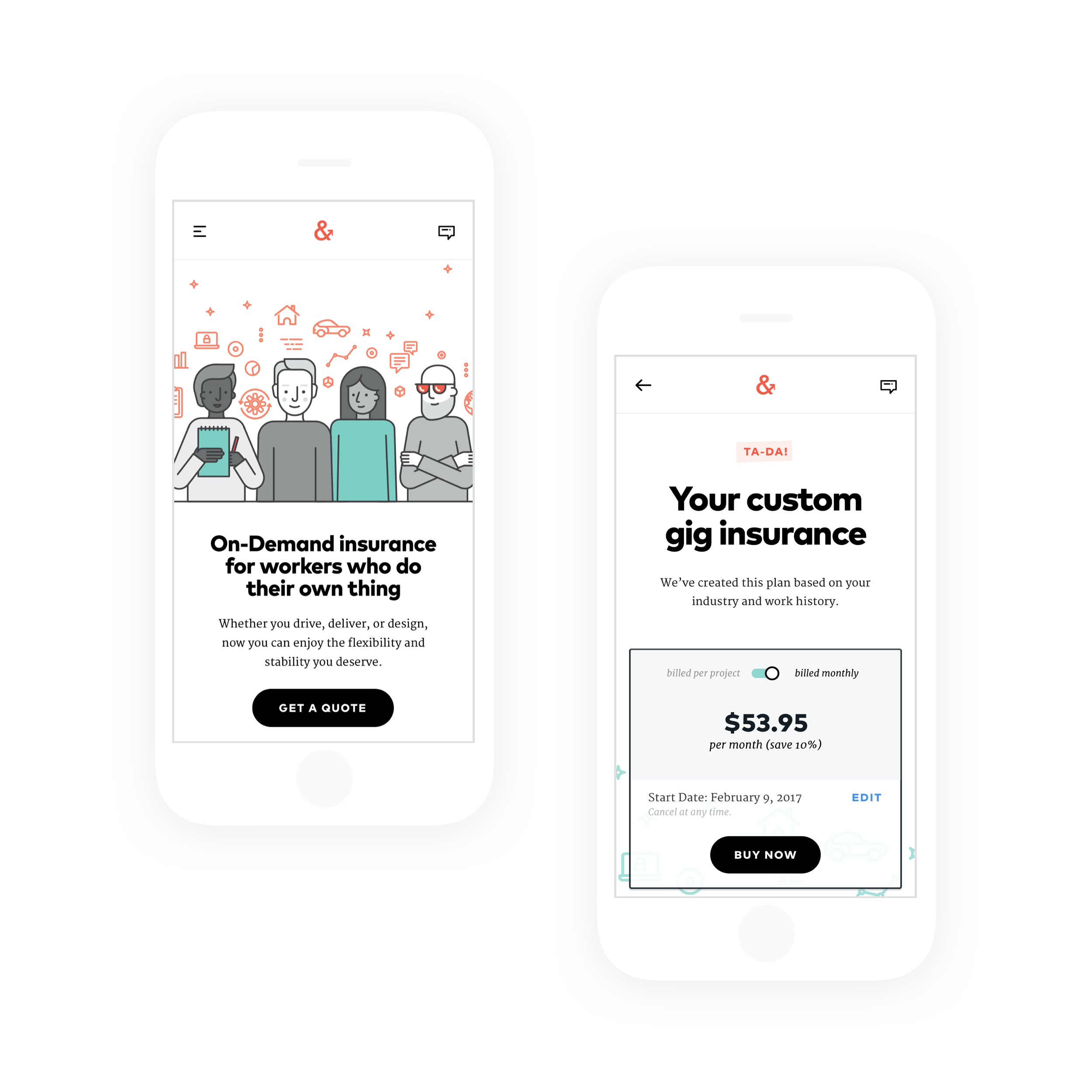 Our insight-driven design: Insurance for gig economy workers that offers flexibility and stability
We learned that a large and growing proportion of gig workers rely on platforms like Uber, Upwork, or TaskRabbit to conduct their work. Motivated by a gap in available coverage for these workers and their general lack of understanding around risk, we thought: what if an insurance product existed for gig workers, designed around the apps they are already using, and which educated them about their risk while offering some of the security and stability of full time employment?
So we did some research, built a prototype, and tested it. We learned a lot about the mindsets of gig workers and what they are looking for in an insurance product. You can read more here.
"I don't have to type in everything on my own– it all comes in through the app? That is a really good pretty nice surprise."
Ashleigh N., Freelances using Fiverr, Upwork, & TaskRabbit